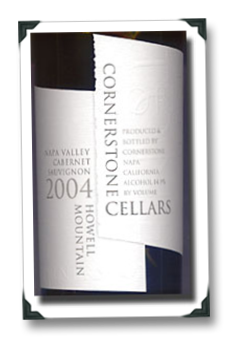 Search for "Cornerstone Cellars Cabernet 2004" via Google, and you will quickly notice a few things:
Apparently, if you post any information about Cornerstone on the web, you're contractually obligated to use a few of the same well-produced photos of Cornerstone wine.  Sort of like how any mention of Australia in textbooks is accompanied by a picture of the Sydney Opera House.  Anyway, I've used the same ones in this post just in case, so I don't get in trouble.
The reviews are glowing (here's a well-written example).
So now I'm thinking, great, who needs to contribute another favorable review of this thing?  Zzzzzzzzzzzzzz.  But this is not a post about Cornerstone, as much as it is a post about me being a Fool, and about the subjectivity of wine tasting in general.
You see, I realized that it was important that I write about my experience with this wine, because tasting the Cornerstone made me realize just how biased I am when I'm tasting, and how much my personal tastes influence my wine recommendations and (mini) reviews.
First, let's talk about the wine, which comes to me as a sample via Craig Camp, general manager of Cornerstone and is a fine blogger in his own right, and who I think is a good guy despite the fact that he only gave me one bottle of this wine.  Anyway, my thoughts on the 2004:
At first I got a little smoked meat on the nose, like how you might smell after eating a Bacon Explosion.  Dark, ultra-concentrated fruit.  The fruit is massive but it's friendly, and you can smell the structure in this wine.  It comes to you like a friendly fat guy in a perfectly-tailored 3-piece suit.  This is Santa Claus on his day off, hosting a dinner party – that kind of friendly.  There is dried plum / prune action all over the place, but there's so much else going on it'll make your head spin.  Concentrate on one aspect, and it goes deep – like the black pepper; really hone in on it, and I swear to god it will practically make you sneeze there is so much pepper.  Hone in on the licorice and you'll feel like you just popped open a bag of some kind of high-end black Twizzlers at the Cineplex… you get the idea.
And this is before I've even tasted it.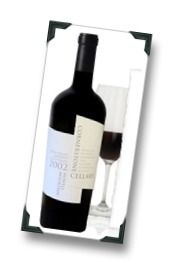 In your mouth, it's dense.  The black fruit carries itself all the way through to the finish, which is plenty long, and it's approachable now because the tannins are grilled-fig-wrapped-in-bacon chewy.  But they (the tannins, not the figs) give you just enough kick at the end, which reveals the whole point, unfolding in front of you like a treasure map that finally points you exactly where you need to dig: the balance of structure and intensity of fruit.  It's almost a mind-f*ck, those last few seconds just get you right into the brain of the winemaking staff at Cornerstone.
That's how I saw it, anyway.
So the interesting thing (for me) is, in tasting this wine, I had a fundamental realization, a small milestone in my personal wine-journey, similar to the first time I paired a buttery Chardonnay with lobster and thought, "OK, this is what everyone was talking about when they said that the right food & wine pairing makes all the difference."
I realized that I've tasted that same balance of intense, focused berry fruit and velvety-chewy tannin structure before.  It's a hallmark of Howell Mountain, which for me is the best site for growing Cabernet outside of Bordeaux.
Period.  End of discussion.  Check, please.
I'm a total fool for Howell Mountain Cab. fruit.  It's kind of sad how much I'm Howell Mountain's fruit bitch.  In my mind's eye, I can imagine walking among some of the Cabernet vines of Howell Mountain, stopping to peruse a ripe cluster still on the vine, and the cluster begins to speak to me.
In this mental vision, the Howell Mountain Cab. fruit has the voice of Mr. T.:
Howell Mountain Cab Fruit: Hey. Suckah!  What kind a fool are you?

Me: <Looks around, fearing for my own sanity>.  Uhm… what?

HMCF: I asked you a question.  What kind of fool are you, suckah?!?

Me: <Leaning in closer to examine the grapes, which vaguely resemble the head of Mr. T.>.  Uhm… I dunno… why are you talking to me?  Am I drunk?

HMCF: I'll give you the answer right now.  You a DAMN fool.

Me: Dude, that is soooo not cool…

HMCF: What other kind of fool are you?

Me: Uhm… I dunno… the drunk kind?

HMCF: WRONG, Suckah!  You MY fool!!!

Me: <collapses into fetal position; weeps>
Guess you had to be there.
Anyway…
How biased is that?  Pretty biased, probably.
If a Howell Mountain wine sucks and I review, I'm pretty sure I will say that it sucks, even if it is from Howell Mountain.  But I'm also guessing that when I taste a good Howell Mountain Cab, it's already getting a leg up on other Cabs I might be trying around that same time.
Consider me squarely in the "wine tasting is subjective" camp.  My palate has its preferences, just like everybody else's.  And they will probably make themselves known in my write-ups, articles, and reviews, whether I like it or not – just like every other wine writing dude and dudette out there.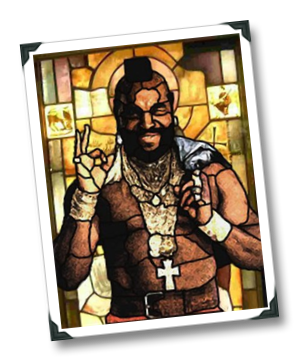 Cheers, fools!