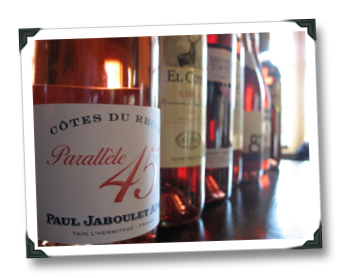 This Summer has been a season of meteorological discontent in the greater Delaware Valley. The (multiple) successive (and repressive) heatwaves might actually make the local wines interesting to taste once they're finally bottled, but it hasn't exactly jived with the tastes of the rest of us.
In other words, it's been too f-ing hot and miserable around here lately!
So, I for one will be very, very happy to see Summer hightail its sorry ass out of here. To celebrate this Summer's pending death, and of course the rise of Autumn (and therefore also the hallmark of Steelers football), I recently raided the sample storage and pulled out a bunch of Rosé, because it reminds me of blood and when it comes to this Summer, I'm definitely out for its blood. The outcome of all of the vinous bloodshed is an overview of Rosé production (and a few reasonably-priced picks) that I penned last week over at Table Matters.
The good news is that the current state of international Rosé remains interesting, vibrant, fun, and for the most part affordable. If you're a Rosé fan, it's a good time to be alive; if you're not yet a Rosé fan, it's a good time to get your act together and try some because very, very good and varied examples are being made all over the world right now.
My reviews from the Rosé sample raid are below after the jump – along with a couple of badges for two standouts among the mix…
First, the badges:
2009 Paul Jaboulet "Parallele 45" Rose (Cotes du Rhone)

Very good Rosé is being made just about everywhere these days, but no one seems to have fully usurped the Rosé crown from France.  Jaboulet's Parallele 45 makes further legitimate claim to the royal French Rosé bloodline, and it's got a killer left-jab / right-hook combo of crushed red berry and floral notes.  If those don't get you, the uppercut of tanginess probably will. At $12, it's a total Overachiever and well worth checking out.
2009 Michel Torino Malbec Rose (Cafayate Valley)

We are dangerously close to Malbec market overload, with just about every big wine production house outside of Chile now sponsoring some kind of joint-venture Malbec project with some Argentine producer or other.  Even sparkling versions are cropping up.  Don't let the Malbec glut (or the overly-cutesy-flowery label) deter you from trying Michel Torino's Malbec Rosé, however.  It's got a great mouthfeel that will help it play well with a wide range of foods, an enticing blood-red color, and nose that is full of candied strawberries without being sweet. In other words, it's a Crowd Pleaser and a wine that will not last long at your next get-together.
And next, thoughts on the entire Rosé round-up, from the twitter mini-review feed:
09 Michel Torino Malbec Rose (Cafayate Valley): You'll have a hard time keeping our friends' hands off this candied berry goodness. $11 B
09 Paul Jaboulet "Parallele 45" Rose (Cotes du Rhone): A beauty who's not afraid to mix it up with us commoners. Total overachiever. $12 B+
09 Hecht & Bannier Vin de Pays d'Oc Rose (Languedoc-Rousillon): Proof that France has never really resigned the global Rose crown. $12 B+
09 El Coto de Rioja Rosado (Rioja): If you're the impatient type who picks raspberries before they're ripe, this one's hard to beat. $9 B-
09 Santi "Infinito" Rose of Bardolino (Veneto): Straaaaawberryyyyy Fieeeeeelds Forevaaaahhhhhhh. $11 B-
09 La Scolca "Rosa Chiara" Rosato (Gavi): Like taking an exquisite bunch of roses, ripping off the petals & chucking them everywhere. $16 C+Cheers!