Lately I've found myself at (what I'd consider to be) a lot of (what I would call) professional (or, at least, semi-professional) environments in which I am expected (or at least it seems that way) to taste wine in the hopes that I might critically evaluate it (but with fewer parenthetical interruptions if I do).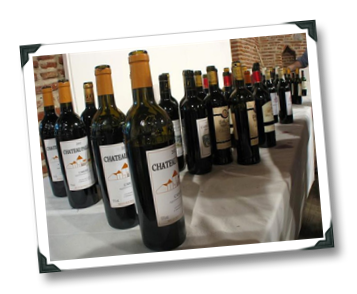 I'm rarely alone at those moments – I'm usually part of a small group of bloggers, traditional press, or some mixture thereof. But I am usually alone in at least one respect at those tastings: I'm the one asking for a spit bucket.
Or the one looking around for an open outside door, empty unused glass, drainage grate, or random patch of grass so that I can spit. More often than not, I feel as though I've got to explain myself, and/or am left wondering why a winery or event coordinator hasn't thought to at least provide a plastic cup for spitting purposes.
More concerning to me is that the majority of my peers at these tastings don't seem to feel the slightest need to spit.
Now, I'm not about to tell someone how they should evaluate wine, and I'm certainly in the "wine tasting is more subjective than objective" camp – but I'm baffled as to how someone can taste several wines without spitting and think that they can remain cogent enough to provide an ounce of objective viewpoint about it all later…
There's a reason that so many of us like to drink alcoholic beverages. It gets us buzzed, tipsy, pie-eyed, shit-faced… the creative phrases and synonyms for being drunk in the English language are rivaled only by those euphemisms reserved for getting laid. Nothing wrong with that, of course, unless you fancy yourself a wine writer and want people to take you even somewhat seriously in terms of your opinion about wine. Not spitting at a wine tasting – especially when several wines are being poured – is essentially putting you on the express train to Buzzville, no matter how big you or your tolerance happen to be. Never mind not-spitting at several tastings in the same day.
Of course, most of us who are tasting at wineries aren't doing it professionally, but if your goal is to learn more about wine – and to make sure you're awake for a nice dinner later that same evening – spitting is your friend. Non-professionals have the luxury of then deciding at which point in their tasting jaunts they want to stop learning and start drinking. Press-minded folks have to keep it together until the last stop on the tour, whether it's past the point of being fun or not.
And if you want to talk about stuff that's not-fun, try being the lone sober guy at the end of a long day in a group of well-meaning but intoxicated people. Sure, there are far worse things than hopping from winery to winery to taste wine, but as most of you can probably attest, doing anything all day while sober in the company of people who aren't sober gets very old, very quickly (that one's a universal truth, like the speed of light or the karmic law that prevents any lane you're in during a traffic jam from moving faster than the adjacent lanes…).
The bottom line is that if you're press and you're not spitting at a wine tasting, there's little chance that you can do your job effectively, unless your job happens to be getting very drunk and writing about it later; just bear in mind that your competition in terms of reviewing wine by "F-cked-Up factor" is Sadat X, and I'd say he's got a lock on the genre. In any case, the calculation, by my reckoning, goes something like this:
More booze = less inhibitions = less objectivity = less reliable coverage
I'd even go so far as to say that not-spitting has a more insidious effect, which is to potentially give a bad name to you, your publication, your writing, your etc. I'm not saying you shouldn't cut loose from time to time when you're tasting wine, just don't expect anybody to take you seriously if that's all that you do. That's not helping to democratize the world of wine criticism – more likely it's perverting the budding world of on-line wine self-publication.
And let's not forget that those particular buds are still very young and very, very vulnerable.
Cheers!