This weekend, I'll be partying at attending the 2014 Wine Bloggers Conference in Santa Barbara, an area with which, I'm happy to say, I am now quite familiar, and where I have quite a few friends trying to make a living in this crazy wine business of ours.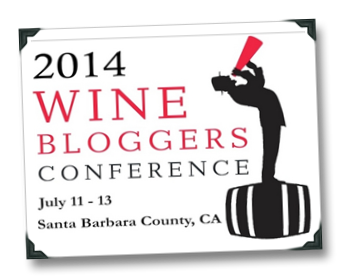 During the first full day of the conference (Friday, July 11), I will be part of a panel discussion (along with wine industry veterans Steve Heimoff (formerly running the CA wine beat for Wine Enthusiast) and Patrick Comiskey (a friend, and a great writer and taster, from Wine & Spirits Magazine).
Our topic, as described by the WBC organizers:
How do we analyze a wine while capturing its unique story? Discover more about the sensory and analytical process employed by wine pros as they translate what's in the glass into words on the page. You'll refine your own strategy for critiquing wine while learning more about the complexities and insights behind wine evaluation. The discussion will be led by Steve Heimoff (former California wine critic for The Wine Enthusiast) and features panelists Joe Roberts (acclaimed wine blogger) and Patrick Comiskey (wine critic for Wine & Spirits Magazine) as they reveal the methods behind effective wine assessment and wine writing for the public.
Critical wine tasting is a topic about which I think way, way, way too much, as in totally-unhealthy-obsessive-compulsive levels of "too much…"
After (too much) mental deliberation, I've decided that (my version of) critical tasting essentially boils down to three levels/stages, each of which contains progressively less objectivity and increasingly more subjectivity, punctuated in the middle by a serious heaping helping of experiential learning. Which is a long way of saying that I taste with objective measurements in mind first, move to more experience-based analysis second, and then let the subjectivity fly in the third stage (contrary to what many other people will tell you, this is impossible to eliminate).
You'll have to attend the session on Friday, of course, to learn the details (c'mon, you didn't really expect me to be a nice guy and reveal the juicy details early, did you?). Those of you who know me know that I talk way too much, so I am quite prepared to go into insane amounts of detail on this topic during the session (and, no doubt, learn more than a thing or two from my experienced co-panelists, as well). I will have much to say about the systematic tasting approach, which to my knowledge most prominent wine critics have not studied, a tidbit that remains a near endless source of amusement for those critics and competition judges who have.
Oh… the audience gets to taste along with us during the session, by the way, using wines that we are picking for the demonstration. And you're really going to want to taste the juice I picked for this… just sayin'…
I hope to see you there, heckling me!
Cheers!