I fell back in love with food-and-wine pairing when I helped a friend (the irrepressible Tony "The Wine Chef" Lawrence) with an outdoor wine / cooking demo sponsored by the Pennsylvania regional chapter of the American Wine Society about two weeks ago (around the same time that the U.S. Congress was simultaneously "working" at raising both the debt ceiling limit and their own internal douchebag limit).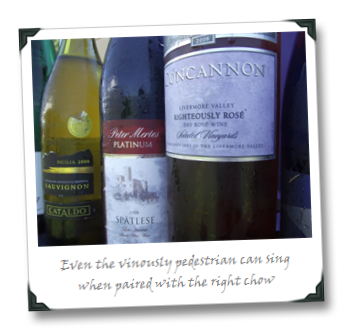 I don't feel like I talk a lot about food and wine matches on 1WineDude.com, but I've certainly contributed my share of recommendations, particularly around holiday times, primarily because people ask me and I feel bad not telling them something when I'm asked.  The trick, as the NYT's Eric Asimov told me a couple of years ago, is to make the topic interesting and continually fresh – because readers do, in fact, want those recommendations.
But the food-matched-with-wine topic, generally, is tired. It's tired because so many so-called rules proliferated in that space for so long, that the net effect seems to have been a general increase in how confusing wine is for the average Joe, a situation the wine industry needs like my daughter needs another plush dinosaur toy.
The most maddening thing about the pairing "rules" is this: of all the trained chefs that I know, none of them adhere to those rules. Not. One. Single. Chef.  So I think the wine consumer can be forgiven for a hearty round of "WTF?" on that one.  The flipside of this rule-breaking is the proliferation of the "drink whatever you like with your food, because your preferences are more important" school of advice.  And I've come to think that this advice – which I've given myself quite often – may, in fact, be wrong.
Why?  Because there are guidelines for food-and-wine pairing. And while they don't trump the most steeped, stubborn, and obstinate of our personal tastes, they do in fact work for many, many people. Probably most people. The guidelines are based on your personal preferences, and are general enough to apply creatively without getting too specific.
And when done right, a food-and-wine pairing can elevate even some of the most pedestrian wines to surprising culinary heights…
1) Some pairings simply do not work for most people, a state exacerbated when combining wines and/or foods that are "other foods unskilled" (which is to say, aren't versatile with other foods).
As Tony put it during our demo at the AWS event, "If on a hot day like today, you pour a great big Cabernet with some Dover sole, then I just can't help you."  I'm sure there are people who might drink Amarone with a delicately prepared whitefish (and good luck to them). But… I'm willing to bet that if they're thinking of having company over for that meal, they'd better have an alternative because not everyone is going to share that (arguably somewhat neurotic) preference.
Keeping #1 above in mind, the next step is to –
2) Start with textures, weight/body, and flavors that you like (in wine OR food) and then focus on juxtaposing and combining those same things between the chow and the vino.
These guidelines, such as they are, really hit home for me during the tasting event, in which Tony (who via anecdotes authored those guidelines) whipped up inspired matches for a simple Cava, a berry-meets-meat rose, a creamy Sicilian Sauvignon and a killer bargain-priced Mosel Riesling; most of which cost under $12 / bottle and all of which pretty much sang in multi-part harmony when tasted with his light-bite pairings.
The approach is nearly a fool-proof way to get at least a half-decent match, and in many cases an inspired one. Case in point: My first wine-and-food epiphany…
many, many moons ago, before I knew bumpkis about wine aside from enjoying how it made me feel (not sober), my then girlfriend made a buttery lobster dinner with toasty potatoes. I happened to have a big-ass, oaky, buttery California Chardonnay (and an inexpensive one, at that) and the match was incredible to me – toasty oak playing off the grilled char of the potatoes, the creaminess complimenting the butter sauce, the (somewhat flabby) weight of the Chardonnay matching the texture of the lobster and the veggies.  I almost peed myself, it was so good – that food took the wine to epicurean places it would never, ever have gotten to on its own wheels.  Texture, weight, and flavors finding harmony, with nary an ounce of anxiety spent trying to figure it all out.
This isn't to say that the job of a restaurant wine director or sommelier is an easy one – they have to find creative wine matches every day for foods, some of them quite demanding, and often are tasked with doing that across multiple meals, all of them different, and all being served with only one bottle with which they're expected to make a sublime match. I know it would drive me insane in no time.
And it's not to say that everyday food-and-wine pairing outside of the restaurant setting should be taken too seriously – it shouldn't.  Your house does not have a Le Bec Fin sign hanging in front of it, does it?  Trying to find perfection every day is basically signing yourself up for a one-way ticket to personal hell – wine-and-food pairing included.
The balance lies in the middle of those extremes, where the pendulum swing between the seriousness of a "great" match and the immediacy "let's just eat & drink, already" finds it's calm center-point.
Most of us have probably shed the "it's gotta be perfect" food-and-wine pairing attitude a long time ago, but please don't give me the "you can drink whatever you want with anything all the time" mantra – because it's bullsh*t.  Don't bother with a laundry list of food-and-wine pairing rules, but don't act like there are no guidelines anymore, because wine geeks are smart people, and more than totally capable of learning and mastering rough guidelines from the pros – ones that have been proven to work in professional settings for many years.
Do we make much ado about nothing when it comes to food-and-wine pairing? Or do we not take it seriously enough?  Shout it out!
Cheers!