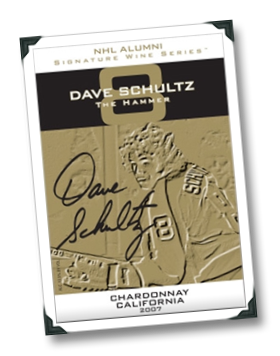 Earlier this week, I could have had wine signed by Philadelphia Flyers bruising legend Dave "The Hammer" Schultz.
Dave's wine, that is.  The Hammer Chardonnay.  Given Dave's playing reputation as an enforcer, I'd hope that this Chard packs at least 14.5% abv and is an oak & fruit bomb that will knock you squarely on your ass after two glasses.
[ Editor's note: I met The Hammer once.  He's a very big and imposing man and I want to make it very clear that I am not making fun of him.  Thanks. ]
Dave's wine is part of the NHL Alumni Signature Wine Series – wines that bear the picture and signatures of hockey greats like Gordie Howe (another Chard bottling), Wendell Clark (a Canadian-only Merlot) and Pat LaFontaine (a CA Cab) – the proceeds are divvied up among a few charitable causes:
"There are three charitable components to the NHL Alumni Signature Wine Series™ wine program. First, a portion of the proceeds from every bottle sold will be donated to the charity of each player's choice. Second, each of the teams' Alumni Associations will receive a portion of the proceeds to be further donated to the charities of their choice. Finally, a portion of the proceeds will also benefit the NHL Alumni Association's "Hockey's Greatest Family Fund" which helps bring together former players to support charitable causes, assist former players in life after hockey and generally promote the game of hockey."
The wines are made by Ironstone Winery and distributed via MyWinesDirect.  I haven't tried them yet, and I'm not holding my breath over it, either – both Dave Schulz and Bobby Clarke are legends in Philly, but thanks to the Communist-like liquor sales setup in the Flyers' home state, those living in PA won't be able to have the wines shipped to them. Oh, the irony…
Personally, I view this as a logical guy response to Paris Hilton's wine-in-a-can.  What do you think about celebrity wine and the NHL series?  Let's hear it in the comments!
Cheers!