I'll be asking for your patience over the next couple of weeks, as I continue the trend of upping the travel here on 1WineDude (hey, you told me you wanted more travel pieces, after all!).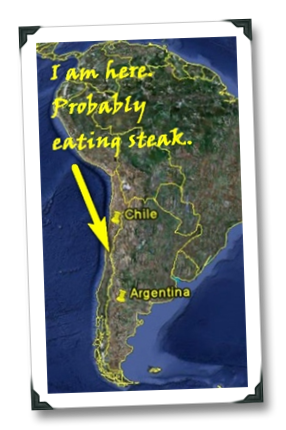 This jaunt is going to feel bittersweet for me: for one thing, I'm stoked to be heading to Chile and Argentina (although I am not sure how warmly I will be greeted by the Chileans after my little mention here of their greener wines last October… let's hope they have a short memory…); for another, it's still time away from my family right on the heels of previous travel to the Left Coast for the Pro Wine Writers Symposium and Premiere Napa Valley.
The trade-off for your patience in indulging a bit  of inconsistency (I'll still be trying to connect and post from Chile and Argentina whenever and wherever possible) is that things might get quiet here over the coming weeks, which not only is blogging anathema in general in that it breaks some of the fundamental rules of playing in the blog-o-world, but it also means that we mess around a bit with part of the contract that I have with you out there reading this blog: namely, the publication schedule that I've been rigorously (and not without some pain – especially the borderline-carpal-tunnel-variety) following since October…
Most in jeopardy is likely the dialog in the comments, where I might have less time to respond (or at least, less opportunity for timely responses) – but hey, you're all smart grown ups, talk amongst yourselves!
But… I think the wait will be worth, and there's potentially a ton of blogging fodder coming out of all of this soon.  So, if you're not sick of me yet, you just might get sick of me after all of the stories coming your way once I'm back.  Either that, or during the mini-down-time you'll forget (aided, no doubt, with the imbibing of copious quantities of wine) how annoying I was and check back in just as the dialog gets back in full swing again, after which you'll no doubt be reminded of how annoying I am and the cycle will repeat.  Hey, it's worked so far, right?
All of this is a long way of saying that sometimes you gotta stop sawing in order to sharpen the saw; and we have the flint stacked and ready to roll here, people!
I've no idea what's in store in South America (aside from the fact that I will be visiting a large number of producers and tasting a shedload of wines), and so I'd love to know what you'd like to see coming out of this: if you have any questions, ideas, burning desires, or nagging peeves when it comes to Chile and Argentina, shout 'em out in the comments!  Actually, I take that back for the burning desires part, I don't want to know those, come to think of it…
Cheers!