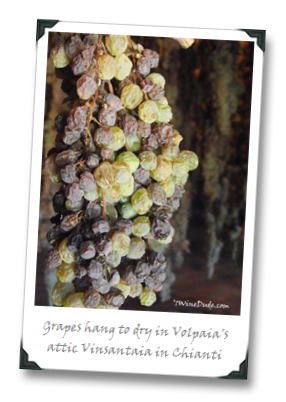 So… remember that little bottle of Vin Santo that I lugged back from Castello di Volpaia (with a not-insignificant amount of help from the VinniBag) during my post-Summer vacation in Tuscany?
Well, it remembers you.
Ok, not really – that would be pretty spooky, wouldn't it?  Like that goldfish in the bowl that was tormenting the kid in that South Park episode.
Anyway, as the weather in the Mid-Atlantic turns towards the cooler side, my vinous thoughts start to move away from Soaves of the world and towards the luscious, viscous, warming spectrum of dessert-style wines. And so I thought that a quick review of the wine that accompanied my long journey back to the States – and a recap of its production from my tour at Volpaia – might serve as an interesting introduction into how the (usually) sweet Tuscan wine Vin Santo is made.
Hang onto your sweet teeth, and let's take a peek inside this Tuscan attic…
The first step in the relatively labor-intensive making of Vin Santo ("holy wine") is to dry the grapes (in this case Trebbiano and Malvasia Bianca) as much as possible, in order to concentrate the flavors and sugars. This can (and is often) done by laying them out on straw mats, usually in an area dubbed the Vinsantaia, which is more-or-less just an attic dedicated to the purpose of drying grapes (and storing the small barrels of Vinsanto wine as it ages).  The trouble with this mat method, however, is that without enough air circulation the grapes are susceptible to (not so tasty) mold.  A way around this is to go High & Dry – i.e., make sure the attic is well-ventilated (i.e., has windows) and  hang the grapes on chains from the rafters, rather than laying them out on mats (that's the method used by Castello di Volpaia – see inset pics).
The grapes are never touched during this drying process (except accidentally by a certain dumb-ass tourist trying to take photos of them), and are treated with a strange sense of almost religious reverence (that's about as far into the "holy"of its namesake that it gets these days) until they're dried out by the wind let in by virtue of leaving the attic windows open for months.
As you've probably suspected by now, pressing these raisins yields a must with a lot of natural sugar, resulting in a vinified wine that hits around 16% abv and carries about 100 g/L of residual sugar, though some Vin Santo wines are vinified in a drier, Sherry-like style.  Quality varies widely (welcome to Italy, folks!), as many producers feel obliged to make the wine because of the area's strong tradition of making at least small batches of it as a gift to guests – even if they don't have the right quality of grapes for it, or the right kind of attic for it, or barrels in good enough shape for it.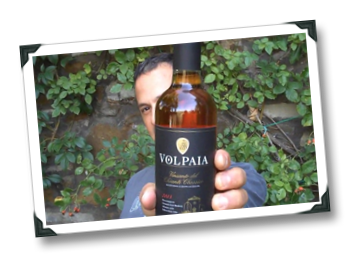 Barrel aging in particular can have an enormous impact on the quality of a finished Vin Santo – there's often a thick residue (called madre, or "mother," for reasons that only Freud will probably fully understand) left in the small caratelli oak casks from previous Vin Santo vintages, and if there are any problems with mother, the kids are gonna suffer.  And those barrels sit for several years in attics whose temperature variations will impact the final product, so storing them in the wrong place is not going to help them; you actual want temperature swings from warm to cold, but gradually over several months during the years of maturation, to help promote the development of spicy, nutyy, almost Maderized aromas.
Fortunately in the case of Castello di Volpaia's Vinsanto, the grapes, the barrels, and the Vinsantaia are fully up to quality-Vin-Santo-snuff:

2003 Castello di Volpaia Vinsanto del Chianti Classico
Price: $35 (375 ml)
Rating: A-
This wine is a love letter written in dried apricot and hazelnut and sent in a half-bottle. There's spiced, caramelized honey action and a slight (and very well-integrated) Sherried note, the kind that you find in the better sweet Madeiras.  Vin Santo is known for having nutty aromas and flavors (as in real nuts, and not strange/idiosyncratic stenches), but I actually found Volpaia's offering to predominantly toss up hazelnut and few others – but damn, if that hazelnut isn't as pure as gold; it's like finding a fresh hazelnut in the middle of a high-end caramel candy, the kind you'd expect to eat at a Christmas party in Versailles. Not that I've been to a Christmas party in Versailles (at least, not yet, people!).  That nutty burst sent some tingles down my spine, and made this wine well-worth the price tag (and well-worth the trouble of lugging the f*cking thing back to the States).
Cheers!