Looks like I'm far from the only one with a penchant for interviewing rock stars about their vinous habits: the Winter 2011 issue of Guitar Aficionado has been dubbed "The Wine Issue" with interviews with wine-making and wine-collecting rockers – and it prominently features a (pretty cool) guitar-shaped decanter on the cover (see inset pic).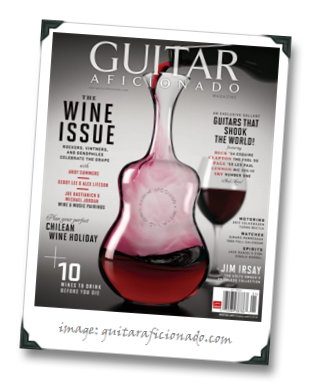 According to the GA website:
"In Guitar Aficionado's Winter 2011 issue, we bring you the rockers, vintners, and oenophiles that celebrate the grape. Rush's esteemed guitar and bass duo, Alex Lifeson and Geddy Lee, discuss their decades-long love affair with the world's finest wines; the Police's Andy Summers talks wine and guitars; celebrated vintner and guitarist Paul Gargiulo says there's a little music in every bottle that leaves his idyllic estate; and Tool's Maynard James Keenan and Daytona drive's Scott Pruett tell tales of their winemaking ventures.
The issue also features articles on the wine tourism opportunities in Chile, as well as wine-and-music pairings by celebrity restaurateur / vintner Joe Bastianich (whose line-up of wines are generally pretty darn good, by the way).
Might just have to go get myself a copy of that, even if it does celebrate an instrument with at least one too many strings on it…
By the way, if you're looking for rock star wine-related interviews, we got some right here:
Cheers!