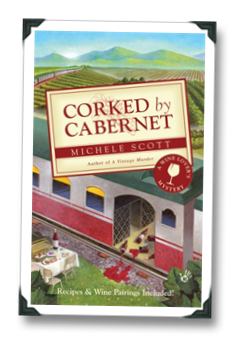 Giveaways have returned to 1WineDude!
I was recently sent giveaway and review copies of the latest Michele Scott "Wine Lover's Mystery," titled Corked by Cabernet.  Michele is the author of other wine-related mystery novels, including A vintage Murder and the unfortunately titled Silenced by Syrah.
Giveaway copies mean, of course, that I'm gonna give them away – and YOU could be a winner!
Here's an excerpt from the Corked by Cabernet book description:
Nikki Sands, manager of the Malveaux Estates in Napa Valley—and girlfriend of the owner—is blissfully happy. Until a guru's devotee is killed on the famous Napa Valley Wine train and ruins her peace of mind.
Despite the fact that this book includes such potentially awesome story elements as a gruesome demise, spiritually enlightened gurus, prostitutes, and Japanese real estate tycoons, it's still not really my cup o' vino – so I asked a friend if she'd give it a whirl.
Her review (I'm paraphrasing):
"It sort of kept my interest.  It feels like one of those Harlequin romance novels – if you like those and you like wine, then it's probably decent Summer reading."
So, there you have it.  Corked by Cabernet also has a few wine and recipe pairings sprinkled throughout, including a chili recipe that I tried (which was very tasty indeed).  That chili was spicy – but not spicy enough to make me want to kill…
Anyway, I've got TWO copies of Corked by Cabernet to give away, so let's get down to the brass tactics.  If you want to win one of these suckers, you need to leave a comment on this post by midnight ET on March 18 (yes, 2009), sharing your favorite wine book that is NOT a reference book. This means that way-cool tomes like the Sotheby's Wine Encyclopedia and Andre Domine's Wine are NOT eligible.
Using a top-secret process that involves my dog and used wine corks (you don't want to know…), I will randomly select two winners from the comments, and reveal the identities of those lucky folks on Friday, March 20th.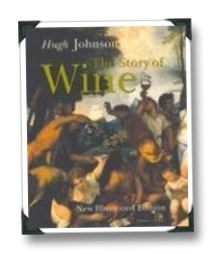 To kick things off, I will tell you about my all-time favorite wine book that is NOT a reference book: Hugh Johnson's The Story of Wine.
Simply put, The Story of Wine is a masterstroke.  2009 marks the 20th anniversary of the first edition, and few wine-related books have aged so well (unless they've had Johnson involved, that  is).  Johnson's The Story of Wine gently unfurls the history of our favorite beverage, with attention to detail that brings the whole twisted tale to life in a way that, like a colorful balloon whose patterns aren't fully seen until it's airborne, can't be truly appreciated unless you've taken it in as a whole.  It might be the best example of prose ever dedicated to the subject of wine.
So, yeah, I sort of dig it.
If I have a problem with The Story of Wine (and of course I do, because I'm incorrigible), it's that a better title might be The Story of Wine as it Pertains to the United Kingdom and All of Her Glorious Subjects, as the book has a serious bent towards wine history's impact on western Europe, and England in particular.  But that minor cavil doesn't stop Hugh Johnson from seriously (and brilliantly) delivering the goods.
And I want to point out that I've penned this entire post without making any juvenile phallic references to the later author's name.  Or does that count as as a reference?
Anyway – let's hear your favorites!
Cheers!
(images: amazon.con)