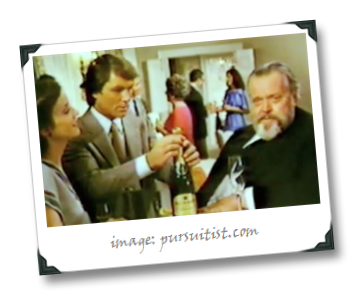 When it comes to tasting wine in a critical context (critical as in "for the purpose of reviewing potential and quality" and not critical as in "life-threateningly-important" – though way, way, way too many people treat it that way), I'm often reminded of the phrase made (in)famous decades ago in wine TV commercials by an aging (and rapidly expanding) Orson Welles.
No, I don't mean "Mmmmyyyyaaaaaargh…The French!…"
I mean "wine before its time."
The deeper I go into this Going Pro rabbit hole, the more often I find myself tasting a fine wine (several) years before "its time" – what I would consider its optimal drinking age.  It's something that came to mind while I was reading (and subsequently commenting on) a recent blog post by Wine Enthusiast's Steve Heimoff, when he mused that it's a treat for wine reviewers when they actually get an appreciable amount of time to enjoy a wine at leisure (a point with which I agree, and one I can appreciate given that I've found myself in similar circumstances recently – though as a general rule I eschew tasting large volumes of wine quickly and, as mentioned before on these virtual pages, I'm not interested in going that route for 1WineDude.com).
So, what is a wine's optimal drinking age, then?…
Before we get into that, I need to explain two very important things.
1) In most cases, tasting a wine before "its time" means only a few short years before what I think is its time – emphasis on the "what I think" part, because as I'll explain in a bit I firmly believe that point is entirely subjective.  Now, the vast majority (think 99%) of wines sold in terms of volume won't really benefit from any additional bottle aging, and even the better part of the remaining 1% will probably need less than five years in the bottle. I just happen to be (extremely) lucky enough to taste a good amount of wine that has the potential to age for decades and still offer a great drinking experience.
2) "Optimal" drinking age is totally subjective. In England, where they like their aged red blends to taste like mouthfuls of forest floor, they'd likely scoff at a similar wine being imbibed decades earlier by us in the States, where the predominant tastes seem to prefer red wines that have gobs of so much fruit that drinking them is like being hit in the face by a blueberry pie.
As in most other things in my life, I prefer the centrist view: I like aged wines in which the primary fruit aromas/flavors are just starting to fade but are still prominent, and the secondary aromas/flavors (usually earthy, spicy and meaty stuff in reds, and spice and honey/nutty stuff in whites) are just starting to jump up and down underneath those primary ones and demanding some attention.  That, to me, is the best drinking window and trying to judge when that optimal drinking window will take place – sometime in the future – is one of the most difficult things that any serious wine critic has to do.  It takes a lot of tasting experience, a lot of background knowledge and a whole lot of rumination and hard work (and a fair share of guessing).
But make no mistake about it: no matter how informed the prediction may be, it's never universal – it's my optimal drinking window, and I make no promises that it might be your optional drinking window; and I certainly make no claims that there is one perfect optimal drinking window.
Your homework? Go out and find YOUR OWN optimal drinking window.  Buy three bottles of a favorite fine wine and stock two of them away, and pop them open at future intervals and see how they develop.  Or better yet, host a party and have people bring over their older bottles and have a fun taste test.  The point is that to find out what you really like, you're going to have to put in some work.
But what fun and rewarding work it is!  Just don't overdo it, or you may end up looking like an expanding Orson Welles…
Cheers!