This week, I'm teaming up with NobleWorksCards.com to give away a set of ten wine-themed cards (valued at around $30)!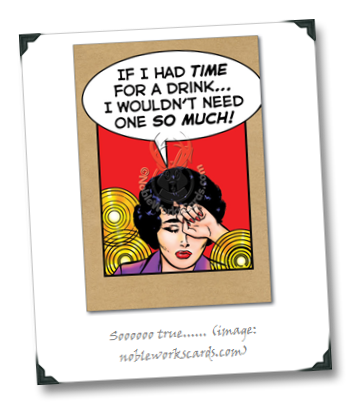 As will surprise none of you who know me, several of the cards push the envelope (ha!… okay… sorry…) on safe-for-workness, all are wine-themed, and all of them are amusing. The pack includes handfuls of funny birthday cards, humorous get-well-soon cards and a smattering of cards that could be used for Valentine's Day or as greeting cards. Basically, you'll find something in the pack that fits the bill for one (or more) of your wine-geeky friends or family.
The entire Card Pack can be viewed at the following links: 1, 2, 3, 4, 5, 6, 7, 8, 9, 10 (yes, I know those are small, but I wanted to squeeze them in without making the post two thousand words; look, do you want a chance to win something or not?!?).
Here's how the giveaway will work:
Check out the cards using the links above, and let us know in the comments which is your fave (and why).
On Tuesday, April 30 at 8PM ET (5PM PT), I will randomly choose a winner from the commenters.
It's that simple; but you also need to be a fully-evolved home sapiens living in the continental U.S. who is of legal drinking age to be eligible to win (sorry, Cro-Magnons)!.
As for my fave to kick this off (and no, I'm not eligible to win): it's a bit crude of me (ah, you expected nothing less!), but I've got to go with this one as my personal favorite (there's just a part of it that, deep down, actually rings poignantly true… in a sick sort of way).
Cheers – and good luck!