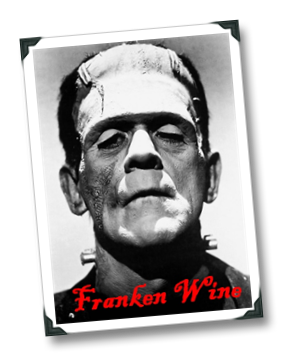 If I had to sum up the history of Silvaner, the ancient wine grape that probably originated in Transylvania but whose spirit now resides firmly in Germany's Franken region, in as few words as possible, it would probably look something like this:
Short shrift.
The problem is not that Silvaner isn't any good.  In fact, it can be pretty damn tasty, as last week's Twitter Taste Live event, featuring some of the Silvaner-based wines from Franken producer Castell, clearly showed to those who participated.
The problem is that Silvaner, in the words of Jancis Robinson, "is not a wine for our times."
This is because Silvaner does not exhibit bombastic flavors and aromas.  Instead, it more subtly transmits the terroir in which it's planted.  It can achieve some downright haunting tropical fruit and spice characteristics, but in the wrong hands (and wrong soil) it becomes mindlessly bland.  A darling of the first half of the 20th Century, most plantings of Silvaner started giving way to the even more bland and even less characterful Muller-Thurgau.
In a way, Silvaner's lack of popularity and its decreasing hectares of plantings is a watermark for the wine world's current fascination (or infatuation, or totally mad and unhealthy obsession) with wines that explode out of the glass immediately and bitch-slap you with fruit and oak.  Which is a shame really, because it would suck to lose Silvaner forever.  Thank goodness therefore for Franken, where Silvaner is still taken seriously, and where it still produces interesting, refreshing wines that can help make inspired food pairings if you're up to the challenge.
Once again, I've captured most of the twitter chatter from the Twitter Taste Live event (available below).  I've also added my mini-take on the three Castell selections that we tried during the event.  I'd recommend seeking out these somewhat-haunting wines.  I fear that, given our current trends towards the bombastic, wines like these may one day end up haunting only our memories… or haunting the fields of Muller-Thurgau that once that they once called home…
08 Castell Silvaner Trocken (Franken): Fresh & clean as your Auntie's kitchen counter. Maybe too clean. Go for lighter foods with this guy. #
06 Castell Kugelspiel Silvaner (Franken): Someone spiced up a banana & stuck it in the flower garden! And it's pretty darn tasty! #
08 Castell Trautberg Silvaner / Traminer (Franken): Starts w/ an acid scream, rests on some lychee nuts, then heads of on the mineral trail. #
<a href="http://www.coveritlive.com/mobile.php?option=com_mobile&amp;task=viewaltcast&amp;altcast_code=326bda371b" mce_href="http://www.coveritlive.com/mobile.php?option=com_mobile&amp;task=viewaltcast&amp;altcast_code=326bda371b">Taste Live – Wines of Germany: Castell Silvaner</a>
Cheers!
(images: filmforno.com)