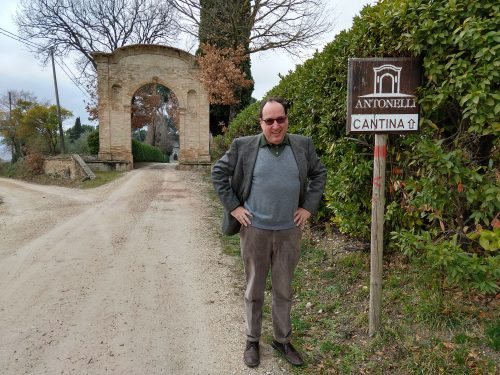 It's a wet, chilly, grey Winter morning in San Marco, a locality that sits just outside of Italy's Montefalco and the ridiculously-well-named town of Bastardo. And I've had to wait in the damp cold for a short bit, because Filippo Antonelli is a bit late for our appointment at his family's winery (hey, welcome to Umbria, right?). And that's pretty much the only slightly-negative thing that you'll read about Antonelli over the next few minutes… but let's set the stage with a little bit more detail before we get into the effusive wine recommendation stuff…
Filippo opens up the Antonelli tasting room, which sits on a hill across from the old family house/cellar/former winery, and starts to bring the charmingly imposing place to life, switching on the lights, and asking me "would you like a coffee?"
I tell him no, grazie, I just had plenty of java at my hotel, so I'm good.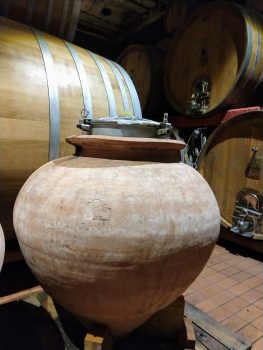 After a bit of a pause, he turns towards the espresso machine longingly, then back to me. "Do you mind if I have one, then, before we get started?" And that's one of those moments where you just love Italy.
Anyway, Filipo then gives me the lowdown on the Antonelli biz. He co-owns (since 1986) the family company along with his cousins, with the Umbria property being from his father's side (and formerly, for about six centuries, being the Summer residence of bishops – part of the fact that Umbria was a portion of the Vatican state until the Eighteenth Century). His great grandfather Francesco was a lawyer, who purchased the estate in 1881. At that time, it was typical Umbrian farming fare; a mix of vines, olive trees, pig farms, and wheat, with the wine being sold in bulk and crop-sharing being the norm. After the advent of the DOC in 1979, they began bottling their own wine, and now release about 300,000 bottles a year from 50 hectares of vines (and still farm olives, wheat, spelt, chick peas, and host agritourism—that is an actual word, by the way—on roughly 170 hectares of land).
A new subterranean winery was built in 2001. And from it comes perhaps some of the most elegantly-crafted Sagrantino available on the planet…
The current winemaking at Antonelli is a team effort between consulting winemaker Paolo Salvi, resident Oenologist Massimiliano Caburazzi, vineyard consultant Ruggero Mazzilli, and vineyard manager Alessio Moretti. What's in their bottles suggests that they are doing just about everything right.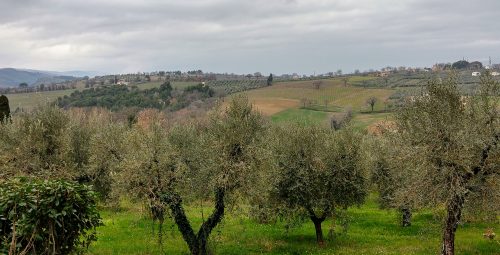 2016 Antonelli San Marco 'Trebium' Trebbiano Spoletino Spoleto (Umbria, $20)
The whites of Monteflaco are often overshadowed by their much more, uhm, robust red brethren. But it's one of the regional white DOCs – Spoleto – that is among the area's most vinously exciting. Italy's maddening penchant for naming every other genetically-unrelated white grape trebbiano aside, the Spoletino version can be fascinating stuff. Here, we get friendly citric and herbal/floral notes, with more serious hints of brioche and pith. It's tight and young, revealing little (and even that only after several minutes in the glass), but the structure and aging potential is apparent right off the bat.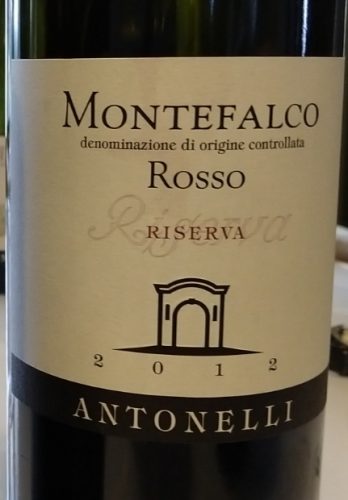 2012 Antonelli San Marco Montefalco Rosso Riserva (Umbria, $33)
The Montefalco middle-child brother, this classification sits between the more instantly-appealing Montefalco Rosso and Sagrantino designations. Antonelli only produces their Riserva line in better vintages, and it sees longer wood aging than their Rosso (about 1.5 years). The blend is roughly 70% Sangiovese (in this case, selected from their oldest vines), 15% Sagrantino, and 15% Montepulciano. Sangio arrived in the area 'round about 1800, and despite the continental climate does well in the region's ample sunshine. Interestingly, and thankfully unlike its Trebbiano, there's no specific sangiovese variant that defines Montefalco's plantings. Anyway, this red combines freshness and earthiness in a classy, spicy, plummy presentation. The mouthfeel is, at turns, full of tart cherry flavors and fleshier, riper plums, and finishes with hints of citrus peel and even clay (and I mean this in a very good, pair-it-with-flank-steak kind of way).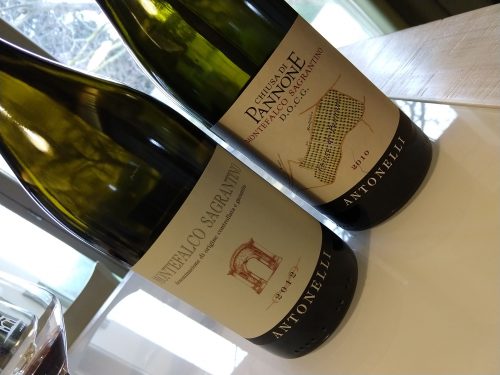 2012 Antonelli San Marco Sagrantino di Montefalco (Umbria, $43)
Now we get to the meat of the meal. Sagrantino isn't an easy grape to get your head (or tongue, or gums) around, particularly when it's young and full of burly tannins, burly acids, and burly alcohol. Antonelli has managed to set a standard on how elegant a Sagrantino can be upon release, without going overboard trying to completely tame its youthful unruliness. This is immediately complex stuff, with ample black cherry, tobacco, leather, and mineral aromas. In the mouth, all of the requisite structure for aging is there, along with power, but it never gets overbearing. Give it ten years, and thank me later.

2010 Antonelli San Marco "Chiusa di Pannone" Sagrantino di Montefalco (Umbria, $NA)
I've been trying, since tasting this wine, to come up with reasons for not considering it one of the best young Sagrantinos that I've ever tasted, and despite the effort of trying to prove the negative corollary, I keep coming up short—so I'm going to give up and just call this release the real deal. The wine is sourced from 1990s plantings that sit at about 400 meters elevation, helping to tame the sun-ripening heat during the growing season. The result is about as gorgeously kick-ass (think Michelle Yeoh) as Sagrantino gets; graphite, leather, earth, tobacco spices, red plums, black cherries, and a long, fleshy, grippy, stunning palate expression. I took a bottle home, which, given how ridiculously behind on sample tastings (and storage space) I am, is about as high a praise as I can offer a wine these days, I suppose.
Cheers!