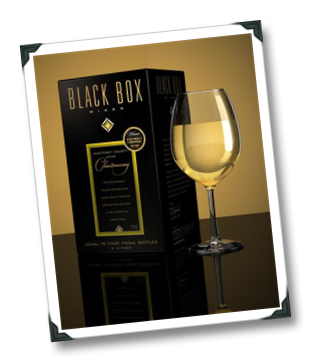 At the risk of sounding like a complete and total corporate brand shill, I'm going to mention that Black Box Wines, one of a few wine brands that have come on the scene offering higher-quality boxed wines, has been good to me and I consider them "friends of the Dude."
It helps that their product doesn't suck, of course. I'm not going to call their wines amazing, and while they claim that their boxes of wine will stay fresh for up to four weeks after opening, their idea of "fresh" after two weeks doesn't coincide with my idea of "pleasurably drinkable."  But… if you're looking for a larger volume of fruit-forward, easy-drinking wine for a party you'd do a lot worse than to pick up a box of Black Box Chardonnay, which I found to be a bargain in terms of quality / price ratio – you get a lot of decent, easy-drinking, tropical-fruit-driven Chard for a very good price.
GEEK-OUT ALERT: I need to mention that the term "boxed wine" gets on my nerves, since technically it's "bagged wine" – the wine is in a bag that happens to be stored in a box.  The technology behind the bag is pretty amazing, actually, since it needs to collapse at the same rate as the wine so that as little air as possible gets into the bag, thus preserving the freshness of the wine. To allow this, the bag is slightly permeable, which means it has a freshness shelf-life even when unopened.  Ok, I'll stop geeking-out now.
Black Box Wines happen to be running a video contest at the moment, which amazingly has fewer than 10 entries at the moment.  I say "amazingly" because they are giving away $10,000.  Even if people from CA aren't eligible (I blame the broken CA state government, from which PA seems to unfortunately be taking its model), that's a paltry number of entries for a prize like that.
The thing I can't figure out is why there seem to be so few entries.  The economy is in the toilet, and wine people came out of the woodwork for a chance to win a similar amount of monthly dough from Murphy-Goode winery.
So, what gives?  Do people not want a chance at $10 Gs?…
Maybe some people consider the prospect of video daunting, or otherwise unappealing?  I don't have an issue making an idiot out of myself on camera, so I've devoted the next episode of 1WineDude TV to showing how easy it can be to throw together a video that could qualify you for a chance to win $10 grand.
In today's episode, I trick WSET and CSW brainy wine-guy Jason Whiteside into sucking down some Black Box Chardonnay.  Much merriment, cursing, and Scrabble-playing ensue.  Check it out below – and if you want to have your own shot at Black Box Wines' $10 grand, you've got until November 30th.
Cheers!
(images: blackboxwines.com)