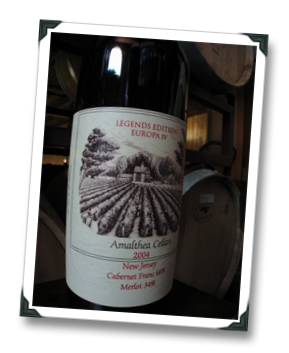 If you take a map of the Bordeaux winemaking region and flip it upside down, it becomes a (more-or-less) mirror-image of the Delaware Bay area that houses the New Jersey's Outer Coastal Plain (OCP) AVA.
Yes, that would be South Jersey.
Yes, they make wine there.
Better wine than you might at first imagine, actually.
Of course, the inverted mirror-image likeness is about as far as the comparison between South Jersey and Bordeaux can go – after that, you have (very) different soils, (wildly) different average temperatures, and (incredibly) different winemaking histories.  But the point, which was being made to me by OCP winemaker and Amalthea Cellars owner Louis Caracciolo, was pretty clear: if you have a body of water to help mitigate the climate, why not try to make fine wines?  Even if it is in Jersey.
I recently had the pleasure of visiting Amalthea with fellow bloggers John and Lisa Howard-Fusco, who run the fine locavore-styled website Eating In South Jersey.  I was tagging along as the wine guy, helping to assess what they considered to be some of the more promising wines being offered from S. Jersey.  The payoff for me, aside from expanding my wine brain and getting to hang out with John and Lisa, was being introduced by John and Lisa to one of S. Jersey's best worst-kept secrets – roadside BBQ joints (read John & Lisa's take on the post-tasting BBQ goodness here).
At the time of the visit, I'd enjoyed enough of Amalthea's wines to highlight the OCP region over at the Wine Crush Blog as a spot to watch – or, at least, as some evidence that no self-respecting wine geek should scoff at the notion of quality cool-climate, East Coast reds.
Which isn't to say that all of the Amalthea whites are bad, or that all of the reds were great.  But it is to say that I'm not sure if Amalthea's Louis Caracciolo is a genius, or a nut-case…
Certainly I know many in the wine world who would find much to agree with in Louis' view of where winemaking needs to move in the future.  Louis (who counts Judgment of Paris author George Tabor among his close friends), sees winemaking as having gone through three distinct phases.  "The story of wine begins with the first wave roughly from 6,000 to 8,000 BC depending on which expert you ask.  Wine was essentially made by peasants and by different local bands and groups in a community spirit, all around the Mediterranean, Greece, Egypt, Italy and France," he told me.  "The next breakthrough came 100 years later in 1850 when Louis Pasteur discovered that yeast is responsible for creating wine.  This was a technological advance that ends what I call the first wave.  Today, the second wave is churning out the high-technological wines of the world.  These over processed wines are sometimes called fruit-bombs, very high in alcohol with very rich flavours; almost approaching port-like qualities.  This is technological advancement to the point that wine in many parts of the world is made more like a beverage than it is like an art."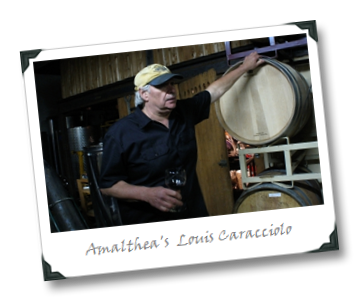 It's Louis' 'third wave' view that will resonate with a lot of wine geeks:
"The third wave is an archaic revival to go back to producing the finest grapes by avoiding "overcropping", crush them, put them into new French or American barrels, add sulfur, maybe egg white, and then allow time to make a wine masterpiece.

Very few wines of the world are actually made this way any longer. The advancement of the second wave modified the process with everything from reverse osmosis to centrifuging, to adding a small parade of chemicals, flavors, and colors in many, many of the wines of the world.

So the new wine breed of the third wave is not new at all. Even though we understand technology, the key now is to return to the hand-making of wines that creates a particular ambiance, flavor and richness that wines of the "global wine market" lack."
He has a point, of course, and one that is echoed in the 'natural winemaking' movement.
Having said that, the wave doesn't always crest, and sometimes come crashing down, because you can only make wine as fine as the grapes that you produce.  Like most of the East coast wine producers I've encountered, Amalthea is still experimenting with what works best and as a result offers probably too many wines over too broad of a quality spectrum.  Those wines ranged from terrible (the 2007 Sauvignon Blanc, which was an acid bomb with little personality) to decent (a promising 2006 Cabernet Franc Reserve with a nice red fruit profile) to downright exciting (the 2007 "Europa III", a fleshy, dark fruited beauty made primarily from Merlot and sporting sweet spice to give it a complex edge).
Now, you might be thinking that no one is going to be confusing South Jersey with Bordeaux anytime soon, but according to Caracciolo that's exactly what happened in blind tastings conducted in the Summer of 2008, in which Amalthea fared better than some big-name producers from Burgundy, Napa and Bordeaux.  It would be interesting, I thought, to conduct another blind tasting like that with more press around.
Especially if I could enjoy more NJ roadside BBQ pork directly afterward.
Cheers!
(images: 1winedude.com)