Heart breaker, pain maker
Stole the love right out of you heart
Heart breaker, heart breaker
You stole the love right out of my heart
Heart breaker, heart breaker
I wanna tear your world apart
Doo doo, doo doo doo doo doo doo…

– Doo Doo Doo Doo Doo (Heartbreaker) by The Rolling Stones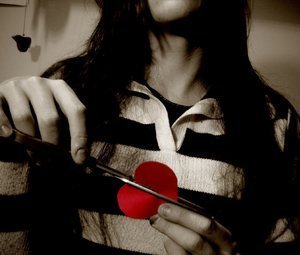 This is an article about heartbreak.  Consider it a sobering day-after revelation after amorous and Champagne-filled Valentine's Day celebrations.
It's a tale that begins with a warning, hits the low of ultimate disappointment, and offers the possibility of redemption.  It's also about the Rolling Stones, twitter.com, and Jermaine Jackson.
Oh, yeah – and wine.
Here's the deal (and the wine part): Burgundy is a heartbreaker.
This is especially true of red Burgundy, which is made from Pinot Noir – a neurotic diva of a grape if there ever was one. White Burgundy, made from the relatively heartier Chardonnay grape, tends to fair better but is just as susceptible to Burgundy's sometimes-unpredictable climate.  Throw in an insane set of laws (established under Napolean) that allows small plots of the same vineyard to be farmed by different owners, and you've got a recipe for wines with psychotic multiple personalities, despite the fact that winegrowing has probably been going on here since the time of the Celts.
But when those neurotic wine divas are feeling good – when the weather, microclimates, and stars align – these wines are so on that the best of them will blow your mind (as well as your bank account).  They can be fruity, sensously smooth, and deeply complex – as well as low-production, which means extremely high prices (some of the highest per bottle in the world).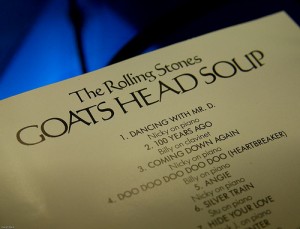 There are, of course, less expensive Burgundy wines to be had, but decent ones are still upwards of $40 per bottle – just cheap enough that the brave of heart might take a chance, and just expensive enough that when those wines are on the neurotic side of inconsistent, those brave hearts are breaking hard, just like the Stones sang about on Goats Head Soup.
Actually, it's more complex than that.  It's more like in that video by Jermaine Jackson, "Do What You Do," where he is wearing suspenders somewhere that looks like the FL keys, and he's totally in love with his woman…  Only she has been hired to kill him, and she is totally torn and broken-up about it… And she comes in to the bathroom with a gun to kill him while he's in the shower, only he knows she is trying to kill him and he's not in the shower, he's waiting in the wings with the police 'cause it's a trap.  You are sooooo Guilty, beeeatch!  But you can tell by the way he furrows his brow and looks downward while he's singing that the whole experience will haunt him for the rest of his life.
It's that kind of heartbreak.
The problem with Burgundy is its inconsistency.  You can buy a wine that borders on sublime perfection one year, only to find that the same wine in a subsequent vintage tastes like left-over cabbage water that someone dumped into a urinal. Not that I know exactly what that tastes like, mind you.
At some point, budding wine lovers may find themselves asking the question, how best to navigate the dangerous waters of Burgundy?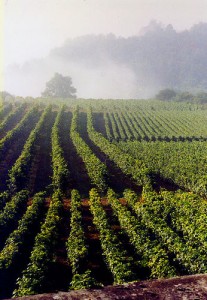 And it's a trick question, because Burgundy is land-locked.  Ha!
Anyway, the best way to avoid Burgundy heartbreak is to get to know some reliable Burgundy producers.  To do this, I often rely on people smarter than me (it's not difficult to find these people) who can steer me towards Burgundy producers who are producing consistently emotionally stable wines.  This means you should talk to the experts at your local wine shop to help you select producers (actually negociants) that are not too expensive but are making consistently good quality Burgs and are looking to constantly improve.
Which brings us to twitter (and you thought I'd forgotten, didn't you…).
Last week I had the pleasure of taking part in yet another Twitter Taste Live event hosted by BinEndsWine.com, with the featured wines being from Burgundy.  Fortunately, the wines were from producers who are churning out consistently tasty vino.  Case in point: the much-improved wines of Nicolas Potel, which aren't exactly cheap but are by no means over-priced for their quality.  I found Potel's Volnay to be particularly tasty and complex – my mini-review:
05 Nicolas Potel Volnay Vieilles Vignes (Volnay): Berry cobbler w/ bacon. A finish so smooth, you could slip on it. But it sure ain't free.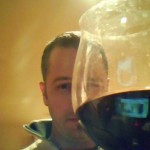 Certainly worth the cash if you'd like to see what all the Burgundy fuss is about without getting your wine-loving heart stomped on.  For maximum effect, I recommend drinking this wine from a huge, pretentious-looking red Burgundy glass (while watching a Jermaine Jackson video to remind yourself of how it could have been much, much worse if you'd not heeded the Dude's advice…).
——————————————————————
Cheers!
(images: layoutsparks.com, splendorsofeurope.com, 1winedude.com)