Hey, speaking of popularity contests…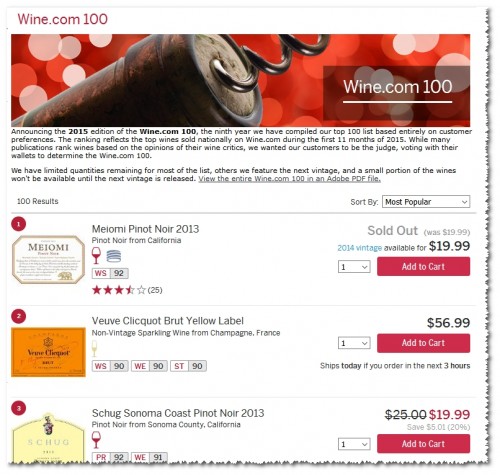 Another top-100 list was recently published, only in this case it's (thankfully) not about wine blogs, but about wine sales: Wine.com's annual Top 100 wines, chosen strictly by sales numbers (as they put it, "While many publications rank wines based on the opinions of their wine critics, we wanted our customers to be the judge, voting with their wallets…").
I'm probably going to get flamed for typing this, but the top ten in the 2015 version of Wine.com's 100 does NOT make me weep for our vinous huminty. Quite the contrary, actually; while it's not going to polish the tastevins for most of the hipster sommeliers out there, I think that the 2015 Wine.com 100 speaks of general good tidings in terms of the How/What/How Much when it comes to wine consumers parting with their hard-earned cash…
Let's take a closer look at the top 10, which is actually only 9 different wines if we exclude vintage:
This is not a list over which we ought to despair.
From what I've been able to determine, the list has no real correlation to anything other than maybe favoring celebrity (Miraval), and brand mind-share (Clicquot, Dona Paula, La Marca, Meiomi).
They're not the highest-rated wines; nor are they the most steeply-discounted wines. They're the wines that people wanted to buy. Personally, I've had about half of this list not to review the wines, but just to drink them, when they were offered to me at parties/weddings/events/etc. And while I didn't fall in love with them, they caused me no reason to botch or moan, that's for sure.
The Wine.com 100's top ten range from the consistent (Dona Paula, Veuve Clicquot, Columbia Crest – daaaaaang! two vintages in the top 10! – and Kaiken), to the tastily serviceable (Miraval, Schug, La Marca), to downright bargains (that entire line by Robert Oatley can be damned good for the price).
These aren't bargain-bin releases, either: the average price is just over $20 (though the Clicquot is a bit of an outlier, inflating the average; without it,  the average is closer to $17 per bottle).
To me, this top ten list suggests that there are a lot of people buying wine online who are 1) willing to spend over $15 per bottle, 2) are moving beyond the "beginner" level in terms of buying entry-level wines, and therefore 3) might be ripe for the occasional up-sell into something maybe a bit more on the adventurous (or even just more expensive) side.
That's mostly good news for the wine biz overall, folks.
Cheers!