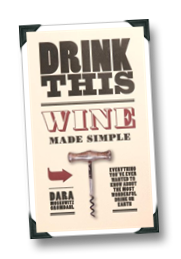 Well… does it?
I ask myself this question whenever I receive a review copy of a wine book, which has been… a lot lately, it seems.
So here comes four-time James Beard award-winner Dara Moskowitz Grumdahl, and her new book Drink This: Wine Made Simple.  Another entry in a (very) crowded field.  It also happens to be excellent, so I suppose the world could use another wine intro book.  Drink This is excellent primarily because Grumdahl's prose is lucid and entertaining.  Her writing is also down-to-earth.
But excellent writing chops wouldn't matter a hill of pomace if Grumdahl didn't know what she was talking about, or if her method for learning about wine proved too rudimentary, too complex, or hindered by some wine-related prejudice.  Thankfully, none of that proves to be the case.  In fact, Drink This is so good that its overall quality makes up for the fact that Grumdahl uses the word 'varietal' as a synonym for grape variety (which it's not).  In fact, she does this so often that I nearly threw the book across the room (I say 'nearly' because my sample copy is a hardcover book, and I didn't want to damage my living room drywall).
The thing that makes Drink This so compelling is that Grumdahl knew writing long before she knew wine. As a result, her method for learning wine (more on that in moment) is likely to  work, because it's the method that she used herself.
The method?  Well, it's a variation on simplification…
From the Introduction:
"Trying to learn everything at once is the major thing that keeps people floundering around in the world fo wine and never making sense of it. Most people try to learn about wine by trying something here, something there, something else another time. This is like trying to learn the day's news by randomly plucking a hundred sentences from a hundred newspapers."
In other words, learning to appreciate wine is no different than learning any other discipline (take playing a musical instrument, for example) that can be enjoyed with a little bit of knowledge but takes an entire lifetime to truly master.  It takes time, and in order to get started you need to, well, start somewhere.  Grumdahl's book is more-or-less dedicated to this principle of simplification, and to stepping readers through different grape varieties and the best ways (in her experience) to taste and learn about the varietal wines made from them.
What I most like about Drink This is the fact that while it's useful for beginners, Intermediate wine lovers (those oft-ignored oenophiles who are past the introductory stages of wine appreciation and are the primary focus of this blog, after all) can find much useful content between its covers, especially in the interviews with wine and food personalities (like Randall Grahm, Thomas Keller and Robert Parker) sprinkled throughout.
It's not all lucid perfection, however.  Wine geeks will appreciate Grumdahl's detailed take on wine prices in the chapter titled Money, Money, Money, but newbie wine lovers are likely to  find it confusing.  Her "Wine Drinker's Bill of Rights" has some interesting and relevant ideas (I'm particularly fond of "The Right to Wine Served at the Correct Temperature") but many of the other rights read like an expensive nightmare for restaurants that are having a tough time in today's economy.
Minor cavils, really – I'd recommend Drink This to any budding wine lover serious about learning more (and wants a helpful reference that offers a bit of knowledge room into which they can 'grow').
Cheers!