You may have noticed that Wine Spectator has been advertising here on 1WineDude.com. I know, right?  The temperature in Hell may just have gotten a couple of more degrees below freezing.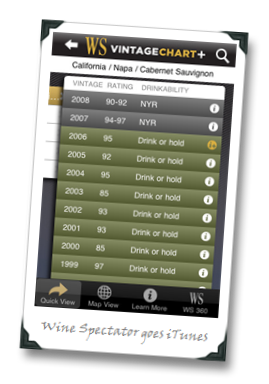 WS are pushing their new iTunes vintage chart app, and part of that push involves a month-long ad stint here and on other on-line wine publications/blogs. Me being me, I asked them to sweeten the deal and as such this week we are giving away a one-year subscription to Wine Spectator (print or on-line), a $49.95 value. 
I think I just heard teeth chattering by another lost soul in Hell… [though I should note, before you or the FTC send me any flaming e-mail, that this post is not sponsored, I worked with the WS reps to concoct the giveaway idea].
Anyway, here's how the giveaway works:
Leave a comment here telling everyone what you think about vintage charts: are they useful? overrated? essential?
In one week, I will randomly select a winner from the commenters to walk away with a one-year Wine Spectator subscription!
I'll kick things off by talking about my view on vintage charts – but first, I probably need to clear the air about how I view Wine Spectator in general, because right now that air seems to be a little smoky…
I've got nothing against Wine Spectator, though it seems to be popular gossip sometimes that I do.  In fact, some of their editors are fans of the blog.  I do have something against a good number of their on-line forum members, though, but that doesn't extend to the majority of their editorial team.
I don't read WS – I purchased one issue several years ago, couldn't make sense of it, felt it didn't relate to me in any meaningful way, and never looked back.  Everyone is different, and not everyone is going to respond to the overall voice and style of wine coverage in WS. Plus, reading a page or two of wine review scores and snippets makes my eyes glaze over.  Thankfully, with the advent of new beverage magazines, wine blogs, etc., just about anyone and everyone should be able to find a voice that speaks to them in a meaningful way these days when it comes to wine.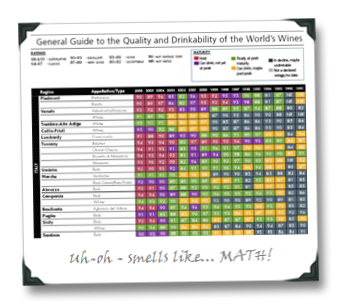 But even though we just did it, we're not here to talk about Wine Spectator per se, but about their foray into the iTunes app world by way of an interactive vintage chart, the demo of which looks pretty impressive from a usability standpoint.  Which doesn't help me much, since I almost never refer to vintage charts.
Vintage charts just don't speak to me, either.  Actually, let me rephrase that – they do speak to me, but only for very specific wine regions (mostly the cooler ones) in which the vagaries of weather play such a huge part in quality that vintage charts from people you trust and whose palates reflect your own can help you determine if you're getting ripped off or not on the more expensive bottlings.  The point is, if a wine critic likes wines that you don't, then their take on what constitutes a poor or great vintage may not be useful to you at all. It's also important to remember that in regions with moderate-to-warm climates, vintage variation tends to have less impact, especially in those areas where modern winemaking techniques are widely employed.
What's your take on vintages charts?  Boon?  Bane?  Shout it out in the comments for a chance to win!
Cheers!
(images: itunes.com, lifestyleandmore.it)