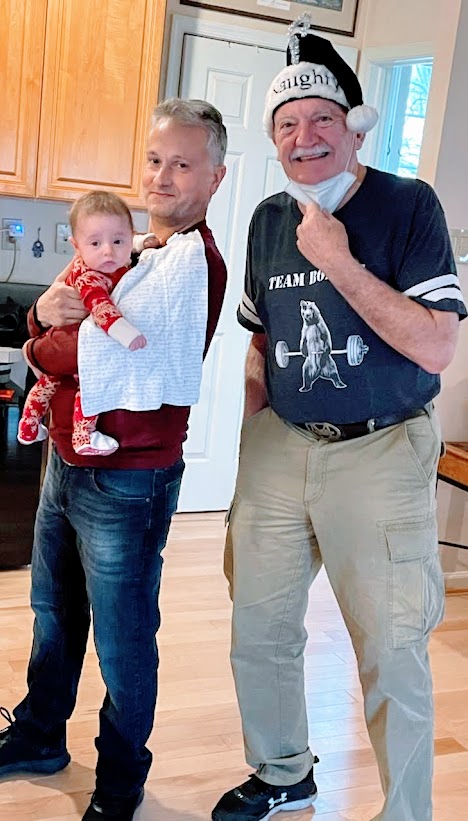 Yuletide greetings from 1WD paternity leave, folks!
Despite the fact that I am woefully, epically, insanely behind on just about everything blog-related, I am still receiving a sh*tload of samples (likely in lieu of the pandemic pretty much still slamming the brakes on any wine-related travel… in fact, it's had both feet pegged on those brakes and doesn't seem at all interested in releasing them anytime soon). So as you might imagine, pickings for the 1WD homestead's Yuletide gatherings (in which, fortunately, Baby Gianna's grandparents on her mother's side were able to grace us with a visit) were far from slim.
And so while, with a 3-month-old in the house, we might not be sleeping all that well, we are most certainly still drinking well…

NV Domaine Carneros by Taittinger Cuvée de la Pompadour Brut Rosé (Napa Valley, $45)
Rosé bubbly is almost always at least a somewhat sexy choice, and this one is most definitely in that category. It more or les lets it all hang out, with impeccable structure and a fine mousse that are elegant dressings on a spirit that is absolutely ready to PAR-TAY down.

2018 Frank Family Vineyards Chardonnay (Carneros, $35)
FF has never been afraid to go big (probably too big in the case of their Pinot, actually) and that formula pays off big-time here in a white that feels tropical, plush, and lushly generous—without also dragging down your mouth into flab territory. Pops of citrus zest and ginger come a bit unexpectedly and keep things intellectually interesting during the hedonistic romp.

2019 Scattered Peaks Morisoli Vineyard Cabernet Sauvignon (Napa Valley, $150)
Here's how winemaker Joel Aiken described the long-standing magic of this top-shelf site in Napa: "The soil in the Morisoli vineyard is classic alluvial fan (bench-land) soil with lots of gravelly loam and great drainage. This soil moderates vigor and the location, just east of Mt. St. John provides some cooling shade late in the afternoon. Clone 7 performs beautifully on this well drained soil with the resulting wine more similar to wines from mountain vineyards than other valley floor vineyards. Blending the two vineyards highlights the best of both creating a wine that is complex and approachable early on but will also age beautifully for decades." This red is SOOOO young and tight right now. Joel is a master with this vineyard, and it shows. Eventually, these gorgeously lush, spicy plums start to emerge. Elegant cedar notes appear, too, and there's an amazing length to it all. Quite a decent amount of dustiness, grip, depth, and freshness all over. It's jam-packed, expressive, textural, and BIG.

2016 Dow's Late Bottled Vintage Port (Portugal, $25)
Impressive stuff for the relatively modest price here; this Port definitely brings a "baby brother VP" feel. Pure ripe blueberry, over-ripe blackberry, dried fig, and, appropriately in this case, tons of Christmas spice action. Lots of bang both in the palate, and for the buck, in this one.
Cheers!