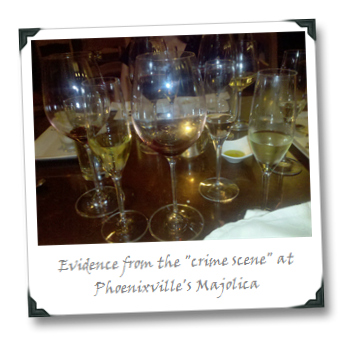 Last week, I had the (relatively rare) treat of a double-date night with our groovy neighbors.  Since this excursion into the (now strangely fascinating) world of conversation that doesn't involve Elmo took place at a fabulous BYOB joint in (a recently revitalized and restaurant-friendly) downtown Phoenixville, PA – Majolica – you might actually care, in a "tell-me-about-the-BYOB-part" kind of way. All of the wines mentioned below were samples, from different sources and picked (somewhat randomly) for the event.
Double-Date Night (DDN) began, as most quality date-night's do, with a sparkler: in this case, a non-vintage NV Lamberti Rose Spumante.  I hadn't had a Spumante in what felt like forever, so I was stoked to try this.  Our waitress just about recoiled from the aggressive opening procedure of this bottle; the only thing keeping the cork from achieving escape velocity into Earth orbit was the (now slightly worse-for-wear) Majolica ceiling.  That should have been a warning sign about the aggressiveness of the mousse on the Lamberti, but I ignored it anyway and I nearly injured my brain when I stuck my schnoz into the glass for a good sniff.  When the aggressiveness died down a bit, the flowery components really came out (a function of the Charmat method of production, I suppose?) but overall it's a wine for Now and not a wine for "Wow!"
For appetizers, I went for a 2009 Nobilo Icon Sauvignon Blanc (a fave of the groovy neighbors).  I get a good deal of grief for liking the larger-production New Zealand SB producers, but there's something to be said for going with a winning formula and overall I really dug the aroma profile of this wine, though it was also a bit aggressive (our dinner table review was summed up as "it's like having gooseberries shoved up your nose while you're mowing the lawn; but in a good way").
It was the final two wines of the DDN, however that were, for me, the real winner and loser of the event – for which I expect I'm gonna get some more flack…
First, the winner (which I paired with Majolica's tasty lamb stew): Penley's Coonawarra Bordeaux-style blend, the 2005 Chertsey.   For a wine that's aged in oak for 24 months, this sucker sure is supple – and big; it's overflowing with blackberry and plum, with notes of "dessert" (dark chocolate and vanilla) playing a supporting role.  I don't agree at all with Penley that this wine should be aged "7-10 years to achieve its full potential," unless by "full potential" they mean "devoid of fruit and not probably not packing enough acidity to be really interesting by then."  I'd drink this in the next 3-5 years and enjoy the hell out of it. I think the `05 Chertsey strikes a great balance between some of the signature Coonawarra dark fruit profiles and a massive, extracted "big size" style of winemaking.  I seem to be in a minority lately for enjoying these bigger wines for what they are – so let the flaming begin!
Now for the (bit of a ) loser: the 2008 Heinz Eifel Eiswein from the Rheinhessen, tasted with dessert.  Now, before you ask, I tried this before tasting my shortbread-cookie-and-lemon-curd dessert (which arguably should pair decently with an eiswein anyway), so I'm going to rule out any significant "food vs. wine" palate clashes. Eiswien production is usually a pain in the ass, no exception for this wine, and it's a single-vineyard bottling to boot.  I was really interested in sampling this because it's offered in half-bottle for $20 – a total steal in ice wine pricing terms, if it was really good, which it isn't quite.
The ice wine aroma profiles are there in the Eifel but the vinyl component isn't balanced with the lemony fruit.  On the palate, the citrus is intense, but the mid-palate and finish (basically what you experience as it hits the end of your mouth and you take a gulp) are really rough around the edges.  Not bad, but personally I'd be spending the extra dough on something more integrated when it comes to eiswein.
I'm expecting some flack for not liking the Eifel, because I seem to be in the minority on that opinion.  Let the flaming continue – I'll wear my asbestos undies!
Twitter mini reviews below, including "grade":
Thanks for tagging along to DDN with me, sort of!
Cheers!