Bart Araujo is an intense man.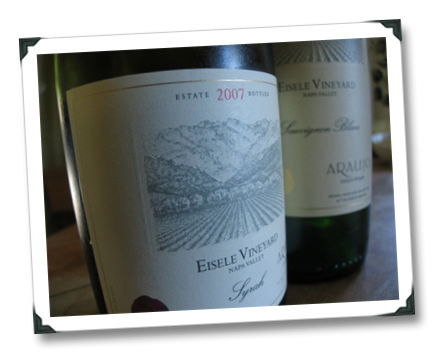 It's obvious when you meet him, if you're paying enough attention.  And you'd have plenty of opportunity to pay attention during a visit to his Araujo estate, which for me began not in the vineyard, but in the winery's offices.  We were standing in front of empty bottles of some of the best wines that this Calistoga property – the Eisele vineyard – has ever produced (some of which were made in basements during the `70s and `80s by dedicated hobbyists, and are obscure enough bottlings that you've likely never heard of them, even if you consider yourself a fervent wine geek.
Bart gave the same treatment to Jon Bonne recently, so I'm pretty sure that the brief history lesson in the final products from Eisele vineyard is S.O.P. for visiting press at Araujo.
The message?  Context is everything.
One might, at first meeting, take Bart to be a bit too serious, which would be slightly off-the-mark.  He jokes (albeit dryly).  He smiles.  He offers his time generously.  But he is definitely… focused.  "You have to reach for perfection," he told me.  "Of course, you'll never quite achieve it, but aiming lower means sacrificing something.  Otherwise, you might as well be making Coca-Cola." 
Given his obvious pride in the history of Araujo, including its wines and the heritage of its impeccably maintained Calistoga vineyard, one might also mistake Bart Araujo as smug.  While his demeanor has been described by one Calistoga wine insider as possessing a good deal of the "Yes, I did" factor, that too is misleading – it would be more accurate to say that Bart Araujo's demeanor reflects his knowledge of what the Eisele vineyard is capable of producing when it comes to fine wine.  Which is to say, some of the best wines produced in all of the Napa Valley – putting them in the running for some of the best wines in the world.
"Yes, It did" is what Bart's demeanor is actually saying.
Why are we spending so much time on Araujo's proprietor?  Because in this case, context really is everything, and to understand Araujo's wines, you need to get inside Bart Araujo's head, just a little.  He is far from a distant figure of a landlord: he still helps to make the call on the final blend, and is familiar with even intimate details about what is happening in their biodynamic vineyards.  Saying that Bart is involved in the production of Araujo's wines is a bit like saying that Argentinosaurus was a slightly oversized dinosaur.
Or, put another way, it's like saying that it was mildly surprising to the Araujo team when their 2007 estate Cabernet Sauvignon was given a 90-92 rating in The Wine Advocate…
At first, the low-ish Parker score and his comments about the light touch of the wine were like a shot to the gut for the Araujo clan, despite the fact that, according to Bart Araujo, they've never set out specifically to achieve any particular point rating.  When I asked Bart and daughter Jaime who their ideal consumer was, they emphatically stated "someone who really loves wine."  In other words, it's never been a wine crafted for "score whores" because those aren't the style of wines that Bart likes to drink ("I know what a 100 point wine usually means; for me it's 'run the other way'" he told me).
Still, there was a  bit of a minor freak-out at Araujo central when the Wine Advocate score was announced.  At first, allocations weren't selling out in their usual timeframe (about one week on average), and there was chatter on on-line wine forums by members looking to dump their Araujo allocations; as one Wine Spectator forum member put it when discussing the new release:
"Who wants to pay $265 for a pos 92 point cab? I can go buy Hall Cabernet for $40.00 that's 94 points or if I want a little more expensive cab 96 point Caymus SS for $99.00"
Reason eventually prevailed.  According to Jaime, "I told everyone, 'calm down – there are great wines, and people will want them.'"  The universe seemed to right itself quickly enough, and allocations sold out in less than a month.  "Must have been a difficult 2 1/2 weeks," I joked with her.  I've honestly had indigestion that lasted longer than that.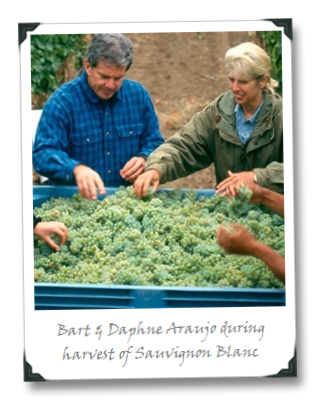 As for the wines themselves, context is needed here, too.  Rewind the tape a bit – sitting around a dinner table at Yountville's excellent Bottega restaurant, I asked some Napa Valley-based friends for their impressions of Araujo.  "It might be the best Cab in the Valley," one of my dinner mates, winemaker and grower Steve Matthiasson, told me.  I have a bit of history with the Matthiasson's, and I know full well that Steve (a consulting viticulturist with Araujo) knows what the hell he's doing when it comes to winemaking and grapegrowing.  In my mind, it amounted to high praise, despite Steve's professional relationship with Araujo.
"Bart is totally focused on quality," Steve added; "he will listen to almost any idea, as long as it might increase quality."  That includes ideas as invasive and complex as biodynamic conversion, or as simple and ingenious as wrapping young vine growth in a circle around the fruit, to form a canopy of leaves protecting the new grapes from sunburn (which in many respects reminded me of the basket-trained vines of Santorini).
I tasted the three current Araujo releases with Bart and Jaime in the estate wine cave, poured from smaller half bottles that seemed to be designed specifically for the purpose.  We tasted the 2007 Cabernet first, followed by the 2009 Sauvignon Blanc, and then the 2009 Syrah (all from Eisele vineyard).  Breaking up the reds in the tasting order was an idea first proposed to Bart by Parker during a previous tasting at the estate.  "Whichever red you taste second seems to suffer after tasting the first, and this order seems to prevent that and refreshes the palate," Bart noted.
After tasting the 2007 Cab, I can understand the low Parker rating.  Not because the wine is a "90–92" or similar, but because it's not a wine that jumps out at you, commanding attention.  In fact, at first it's almost subdued, especially on the nose.  Give it several minutes, however, and its true nature starts to reveal itself; black fruits, earth, crushed walnut shell, vitality and vibrancy, dusty rock. Like taking a very beautiful woman to dinner in an elegant, upscale restaurant, and having a moment during the conversation where you really connect in some profound way that would barely be noticeable to the other patrons but gives you both goosebumps; or like staring at someone face to face on opposite sides of a passing train, your eyes meeting only in the moments between the passing boxcars – tasting this wine is an experience that requires all of the attention that you have to give to it, but the rewards are profound.  It was beguiling, and one of the finest Cabernet-based wines I've ever encountered out of Napa. 
Do I think Parker got it wrong?  Hell yeah, I do – at least when it comes to my palate preferences.
The 2009 Araujo Estate Sauvignon Blanc was much more outspoken, and what struck me was how pure and deep the fruit expression was without the usual trappings of Napa Valley SB (i.e., without the desire to turn it into Chardonnay).  It might have been the most balanced California SB I've yet tasted (and lately I've been on a tasting mission to prove myself wrong about the sorry state of the majority of NV SBs).
The 2007 Syrah played much closer to the vest and still has its poker face showing.  It's incredibly – monstrously – dark and concentrated.  I wouldn't yet speculate what this wine will do and in fact if it's currently in your cellar I wouldn't even look at it for another three years at a minimum.  You won't be mistaking it for Northern Rhone anytime soon, but something tells me you wouldn't be disappointed with the results in ten years, either.
Assuming you can afford the wines – and assuming that someone on the allocation list dies and you can actually acquire the wines – you'll get what you pay for when it comes to Araujo.
The context of the imploding economy may not be everything to Araujo, but it's closer to being everything to many of us who really love wine.  Context may be everything, but it's got a downside, too.
Cheers!
(images: 1winedude.com, araujoestate.com)