Am I crazy for thinking Chilean wines still have way too much pyrazine/green pepper action?
Well… am I???
That's a question that's been on my mind lately, especially after taking part in the Wines of Chile red blends on-line tasting recently and finding myself in the minority of participants who found the levels of nettle / green pepper aromas in the reds almost… distracting.  The Syrah-based wines showed the most promise (and to me the lower amounts of pyrazine action).  In my experience, those green-ish aromas are ok in very, very small quantities, adding hints of interesting smells to the dark fruits and giving reds the occasional bump from "very good" to "astoundingly complex" territory.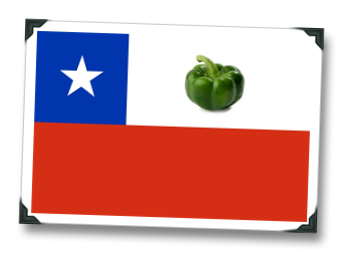 Notice I am saying "very very small quantities" and I mean just that – the pyrazines that contribute to those aromas are potent and a little goes a loooooong way, baby.
To be honest, I'm beginning to think that Chile may never really get it totally together on this; it might just be part of their climate, their terroir, their vinous destiny.
Which means that Argentina might be poised to clean Chile's clock in the South American fine red wine market.
Not all Chilean reds are overly green, and I'm not the only one who thinks that Syrah might be the variety with the brightest (and least green) future in Chile: Michael Cox from Wines of Chile said the same thing during his talk at the recent European Wine Bloggers Conference in Vienna.
BUT… After tasting more and more examples of excellent, complex, and reasonably-priced higher-end red blends from Argentina, I'm growing increasingly more convinced that Argentina's future is looking rosey… er, make that dark red… and that the one who might suffer most from that success is Chile, at least in the U.S. because consumers here probably don't prefer the wet blanket of green bell pepper aromas laying all over the dense black fruit of their supple reds.
This all really hit home for me when I caught up with Argentine producer Doña Paula's Edgardo Del Pópolo, their head Viticulturalist and Operations Manager, for dinner in downtown Philly to taste through their recent releases and generally talk shop.  Edgardo didn't think I was crazy for being turned off by the pyrazines in Chilean reds, but he was a bit more diplomatic about the differences and saw them mostly as complimentary.  He did, however, offer this tidbit:
"In South America, we have a saying: shopping for wine here is like shopping at the grocery; in Argentina you get your fruit, and in Chile you get your vegetables…"
Never mind that Doña Paula's Torrontes is a killer entrant into invigorated the S. American white wine market (it's got a killer nose of passion and star fruits); their Seleccion de Bodega Malbec is not only proof that Argentina has nailed the dark-fruit-profile red thang, it's also a great example of how complex (think hints of graphite) and age-worthy Malbec can be in the right hands.
And the pepper?  Black, white, but definitely not green.  Sign me up, baby.
So… I ask YOU… am I crazy?  Shout it out in the comments.
To get you started, here are some of the responses (the serious and not-so-serious!) to that same question when I posed it on twitter and facebook last week…
Cheers!