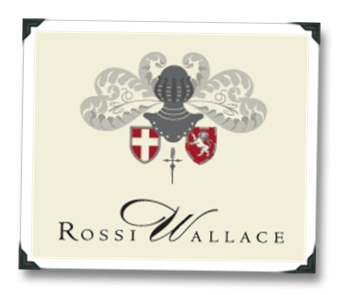 I should just cut to the chase and tell you that the first releases from Rossi-Wallace border on beguiling, and that you should buy them now if you can, especially given their limited production.
But that's just downright boring, right?  So, I feel obligated to kind of, you know, spruce it all up a bit.
I've been sitting on samples of the inaugural releases of Rossi-Wallace's 2007 Napa Chardonnay and Pinot Noir for months – well, not literally sitting on them, of course, just quietly ignoring them in my cellar… ah, you get the idea…
I suppose that's a sad commentary of just how behind I am in tasting samples.  A sadder commentary still is that I wasn't already familiar with Rossi-Wallace's winemaking team, despite the fact that  Ric Forman and Cheryl Emmolo have been involved in Napa wine in some way/shape/form for 40+ years.
Clearly, their time and experience have been very, very well-spent.
Rossi-Wallace's namesake is a clever combination of the names of Forman's and Emmolo's red-headed mothers – just so you don't confuse this post's Carrot-top-reference in the title (we're NOT talking about the comedian who seems hell-bent on trying to become a  Thundercats' Liono look-alike wearing a tuxedo).
I could regurgitate the information on their website and press materials about the care and techniques they brought to bear on the first releases of their new label, but you're smart folks and you can read all of that yourselves.  The bottom line is that if you like your Chardonnay and Pinot Noir to have the in-your-face, indelible stamp of modern, bombastic California winemaking, then these are NOT the wines for you…
These are wines of integration and balance – alcohol & acidity, power & pleasantness, fruit & finesse.  Best of all, these wines are an almost seamless marriage between Burgundy and Napa, a balance whose successful implementation I would not have previously bet good money on achieving.
And yet, there's the proof, in handy, portable bottle format.  It can be done.  It has been done.
The Pinot's ultra-light color belies an abv of almost 15%, which goes down so smoothly because of the racy acidity that it feels more like 12%.  A dense cherry core is draped with aromas of violets, almost like it's wearing a boa made of flower petals.  The wine has seen a touch of oak, most of it neutral Burgundian.
The Chardonnay is about as close to Chablis as you're gonna get from California, with fruit from Rutherford's Star vineyard.  Its lush-but-not-too-opulent texture is fully the result of sur lee ageing (oak is nowhere to be found).
I loved these wines.  I almost loved the price points  – the Chard is a bargain at $25 with only 150 cases being produced; the Pinot at $35 is fairly-priced considering the low production and winemaking techniques.
Yes, Virginia, there is Napa Pinot and Chardonnay that can be matched perfectly well with food.  It's just not easy to come by.
Cheers!