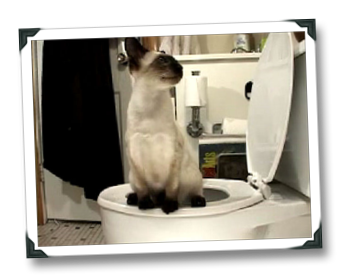 By all accounts, the is past Saturday's Twitter Taste Live! event, featuring selections from Napa Valley stalwart St. Supery, was a big success.  Some estimates on the event put the number of twitter event posts at greater than 700 (I've not seen any definitive statistics yet), which would likely make it the biggest TTL event to date in terms of raw participation.  Undoubtedly the wide availability of St. Supery wines helped to send this event over the top, in twitter terms.
No matter how you look at it, 700 tweets is a lot of exposure for St. Supery – especially when you consider that the participants needed to have the St. Supery wines in order to get the full TTL experience.
During the event, I was pleasantly surprised by St. Supery's Sauvignon Blanc-based wines.  This is because I have a bit of a love/hate relationship with Napa Valley Sauvignon Blanc.  Which is to say, I almost love to hate Napa Valley SB because in my experience they're way too bloated and flabby to compare with the best efforts from New Zealand and France.  I was beginning to wonder if NV SB was a fad that needed to die, sort of like Napa's questionable experimentation with Sangiovese-based wines.  Wine geeks often refer to SB's pungent aromas as "Cat pee," a term I tend to avoid when describing any wine that other humans might actually want to try, but I made reference to the term during Saturday's TTL event, when I expressed surprise at how enjoyable the St. Supery SB's were: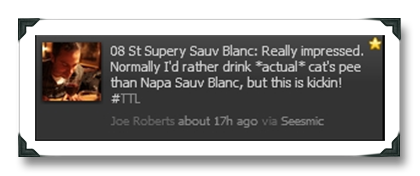 I suppose I expected some measure of challenge to that statement.  I just didn't expect it to come less than 24 hours after I'd made it…
One such challenge came, appropriately, via twitter.  It was from Michael Silacci, Opus One's talented and hospitable winemaker (you can read more on my conversations last year with Michael here).  Michael came to the defense of his fellow Napa Valley wine producers, issuing a dare of sorts for me to try Toquade's SB:

I'm not one to shy away from a challenge, or one to shy away from admitting mistakes, especially if it means I get to try some potentially tasty wines in the process.
So let it be known – if the gauntlet is being thrown, then I'm game for blind tastings of Sauvignon Blanc.
I suppose this means that now I"ve got yet another task on my plate, and that I'll need to get some samples of Sauvignon Blanc from Napa Valley and elsewhere.  I'll leave it up to the PR folks reading to consider some wines and contact me for samples.
Just leave the actual cat piss at home, okay?
Cheers!
p.s. – It's great to see that Rick Bakas, one of our wine blogging own, was brought on by St. Supery to handle their social media duties.  There's a general feeling of goodwill and positive vibes in the wine blogging community that one of our boys got "made." Congrats, Rick!
(images: cannedpets.com, 1winedude)