In this special weekend edition of 1WineDude.com, I have some epically gargantuanly stunningly-hyphenated-made-up-adverbially BIG news to share with you all.
Steve Heimoff, of Wine Enthusiast Magazine (not sure if it's the English or Mandarin version… but sh*t, I'd better find that out REAL soon) are SWAPPING GIGS.
Yes, ou're reading that correctly. Steve Heimoff will now be writing the Wined Down With Joe Roberts column on Playboy.com, and I will be taking over Steve's California wine beat for Wine Enthusiast.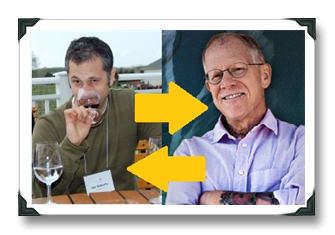 As part of the move, Steve and I will also be swapping blogs, and so you will find Steve writing about writing about writing about wine here, and over at Steve's website I will be penning my normal shot-from-the-hip missives about the wine world that actually sound like they were, indeed, shot by something and then left to rot.
I wanted you al to be the first to know. Only you're not really the first to know… there were, like seventeen lawyers who knew before you did, and then there's the editorial staff at WE and Playboy.com, and around eight or so of Steve's neighbors in Oakland, who all knew before you did. But you're, like, the thirty-fifth person to know and that's meaningful to Steve and I, because I was 35 years maybe when Steve and I first met. Look, just go with it, okay?
I realize that this will come as a great shock to many of you, so it's important that you understand the rationale behind this joint decision by Steve and me:
Talent: Steve and I are writers who can distinguish between when it is and is not grammatically correct to use the phrase "Steve and me."
Work-Life Balance: We figured it would take a while before either WE or Playboy.com noticed, since we both like to work remotely.
Because We Can: We're both, like, super-important in the wine blog world and this is, in fact, a childish attempt by both of us to lord our power over the minions.
Intangibles: We're about the same height.
For The Good of the Land: Steve is less dangerous for the Playboy Playmates, and I'm less dangerous for Wine Enthusiast.
See you over at SteveHeimoff.com, people!
Cheers – and check your calendars!
p.s. – Mad, mad love, respect & appreciation to Steve, who had no idea I was doing this but I strongly suspect will take it with good humor (what's Mandarin for "humor"?).