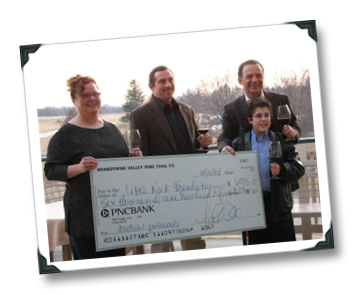 On Friday, March 6, the vintners of the Brandywine Valley Wine Trail quietly, and humbly, showed what it was made of.  What we have is a very special group of people making wine here in Chester County.
At an intimate gathering in the Penns Woods Winery tasting room, the members of the BVWT presented nearly $7000 in auction proceeds to The Little Rock foundation, which provides resources to help children who are blind or visually impaired.  On hand to present the donation to Little Rock were BVWT members Carole Kirkpatrick of Kruetz Creek Vineyards & Winery, Lance Castle of Black Walnut Winery, Sarah Malone of Penns Woods, and Karen Cline (BVWT Administrator).
While the gathering was small, it belied two very striking and important things about the BVWT:
They could hardly have picked a worthier cause to support.  The Little Rock Foundation's mission is to improve the lives of blind and visually impaired children.  This means that that provide early intervention education to parents of those children, and stick with those kids through childhood to early adulthood.  As they grow up, the LRF helps those children to build a community, showing them that they are not alone in dealing with their impairments.  In other words, the LRF helps to do something miraculous – it helps to give those children back their humanity.

The members of the BVWT are a real community.  In Chester County, PA, you wouldn't expect a group of wineries to be in cut-throat competition.  And – blessedly – they're not.  This is a group of people who are actually looking out for one another, and treating each other as neighbors on a common mission to continually improve the wine that Southeastern PA is capable of producing.  Take a trip to wineries in the Napa Valley, and you may find that any mention of their neighboring winemakers elicits an awkward silence and a roll of the eyes.  This simply doesn't happen in the BVWT – hopefully they can keep this Southern PA mojo, as it's a serious competitive (not to mention karmic) advantage.
To donate or volunteer for the Little Rock Foundation, visit www.tlrf.org.
If you want to visit the wineries on the Brandywine Valley Wine Trail, now is the perfect time – their Barrels on the Brandywine festival (which spans all of the participating wineries) runs throughout the month of March `09.
Cheers!
(images: 1WineDude.com)