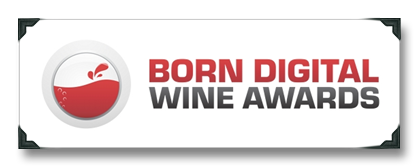 The good news for wine lovers is that there's a ton of wine-related content on the 'global interwebs,' much of it available for free (because content is a commodity now, people).  The bad news is, not all of that content is reading that would appeal to a wider audience (wider than the friends and family of many of those writing the content, that is) – that's not at all meant as a dig at the vast majority of wine blogs that act as personal journals chronicling passionate consumers' journeys into the amazing world of wine; it's just the truth in terms of how much of that content is presented and targeted (trust me, not too many people would want to read my personal journals… but the point is that a small group of people close to me might).
The better news is that, for those looking for the most surfable waves among the vast oceans of on-line wine content, the judges for the 2010 Born Digital Wine Awards have done a great job of vetting some superb individual pieces of that content for you. You can thank them later (I recommend flowers, because those people get a ton of wine already).
The Born Digital Awards program is brainchild of Gabriella and Ryan Opaz along with Robert McIntosh, who together have started building up an impressive set of wine-related media ventures in Europe.  The idea was to build on the success of the Wine Blog Awards in highlighting outstanding wine-related websites, but with a Pulitzer-style twist: focusing on individual pieces of content (video and writing), and awarding actual cash to the winners.  I don't know anything about the judging process itself beyond what's already been published at borndigitalwineawards.com, but I do know that the list of judges contains some pretty amazing wine writing talent.
The finalists in each of the award categories were published last week, and the winners will be announced on May 18th at 5:30 PM ET, streamed live from the London International Wine Fair.  I'm humbled to be among the short-listed finalists (go ahead… make the height jokes… you jerks…), but that's not why I'm talking about the awards here.  I'm talking about the awards because I wanted to post the entire list of links to the short-listed finalists below (after the jump) – there's just some great f*cking content in the list, and if you're into wine it's a treasure-trove of cool-ass shiz to read.
WARNING: You may get tired of seeing Blake Gray's and Alder Yarrow's names in the list, as they're each finalists for something like 900 of the categories (ok… two…).  In all seriousness, those guys are friends of mine (as are several of the other finalists, actually) and I'm happy to see their stellar writing included in the list (and even happier to be included in any list with those guys).
Now get reading (and watching)… and enjoy!…
Best Editorial Wine Writing
Best Investigative Wine Story
Best Winery Self Produced Content
Best Wine Tourism Feature
Best Wine Themed Video
Cheers, and best of luck to the finalists!