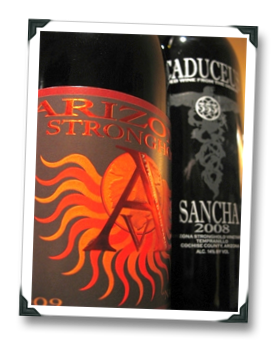 I know this end-of-week segment has tentatively been reserved for wines of the week, but so far I've featured wines not actually reviewed during the week in question, and in this case I'm giving a badge to just one wine and not multiple wines… so let's just agree that some re-branding might be in order, ok?
The thing is, I keep encountering cool and interesting wine shiz that I want to share, like last week's T.A.S.T.E. mini-bottle craze and the wines of Paul Dolan, so let's also just agree that we've started an anti-segment and get on with it, ok?  Ok!  Excellent!
Now that we have that out of the way, let's talk Arizona.  As in, Yes, Arizona is making wine, just like the rest of the states in the U.S.
Of course, when you tell someone that you just tasted some (samples of) AZ wine, and just watched a (review copy) of the film Blood Into Wine (which chronicles in vastly-entertaining-but-sometimes-too-advertisement-like-fashion the work of rocker Maynard James Keenan and winemaker Eric Glomski to put AZ on the fine wine map), invariably this is the response that you will get:
"Maynard Keenan? Isn't that the dude from Tool and Puscifer? Arizona makes wine?  WTF?"
At least, that's been my experience.
Based on the similar befuddled reactions of my friends, I can only imagine what the AZ wine industry has to endure every day when asked about their efforts to bring fine wine recognition to the state. My guess is that Napa makes fun of them, all isn't-that-cute-little-brother style, like the way that we treat Canada most of the time. As my friend Alder Yarrow said during his cameo in Blood Into Wine (paraphrased): I taste a sh*tload of wines every year "and 99.9% of them are not from Arizona."
Based on what Glomski and Keenan are doing, however, I am wondering if that situation may change in the not-too-distant future…
If my email Inbox is to be believed, then at least Arizona itself is taking it's fine wine scene very seriously, because they seem to be holding, entering, and showing well in a ton of wine competitions, which at the very least shows self-confidence in their own finished products.  Speaking of finished products…
Let's start with one of Glomski's wines, the 2009 Arizona Stronghold Vineyards "Nachise" – a Southern Rhone style blend.  I wasn't crazy bout this wine, but that's a stylistic and preferences point, really – it's as fierce as its Apache namesake, tannic and gripping, but clearly well-made by someone who knows what the fuck he's doing and likes to blend. I dug the dusty, coffee notes (remember those, because they're important for AZ as we'll get to in a minute or two), but ended up longing for more red fruit.  At $19, it's not a bargain, but it's sure-as-hell not pissing-your-money way either. Only real Mourvedre fans need apply, though.
The thing was, the Nachise got me thinking that in a blind tasting I'm willing to bet this wine would stump a lot of people, and ultimately they'd guess that maybe it came from the hotter zones of California, but only because (lacking exposure to wines from AZ) no other option seemed appropriate. In other words, the uniqueness of place might already be coming into play for this wine… which leads us to the…

2008 Caduceus Sancha (Arizona): Dusty, brooding & dark-fruited proof that Tempranillo can, in fact, feel at home somewhere in the U.S. $59 B+ #
Hey… there's that dusty, mocha coffee action again… are we getting a glimpse into the red wine fingerprint of AZ?  Maybe. While it might be too early (for me, anyway) to tell if the best AZ reds will carry there's certainly no doubt Maynard Keenan's "Sancha" is a serious wine, and thankfully it avoids the trap of trying emulate the worst Tempranillo offerings of Rioja, which are aged so long and so stubbornly in oak that they end up tasting like whatever wood they sat in for umpteen years rather than tasting like, well, fruit. In this case, the fruit is very dark and very interesting, and has the potential to get geeks talking and non-geeks guzzling.
If the wine of "Blood" brothers Keenan and Glomski are any indication, then AZ might just be the next U.S. wine region to watch (though production isn't likely to compete in volume with CA or WA anytime soon). Like other U.S. wine regions trying to gain notoriety and break up the near-monopoly that CA wine has over the minds of U.S. domestic wine consumers, the AZ wines are over-priced (primarily a reflection of production costs).  BUT (and it's a very big but)… curiosity-seekers and those looking for something out of the ordinary will definitely be rewarded for the extra outlay of cash, and can start to collect bragging rights to be cashed in later when the concept of AZ fine wine is commonplace and has lost the WTF? factor.
"Yeah, well, I was drinking AZ wine back when people were all like, 'AZ wine?!?  WTF?!??'…"
Cheers!