Until a little over a week ago, I'd never had a one hundred and eleven year old wine before.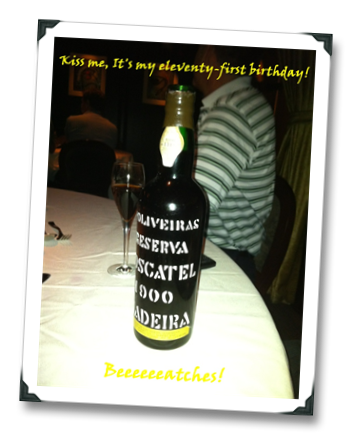 And when heading out to dinner in downtown Chicago, I hadn't expected to run into a wine that was celebrating it's eleventy-first birthday; I mean, does anyone ever expect to run into anything celebrating 111 years on planet Earth, apart from Bilbo Baggins when you're cracking open The Fellowship of the Ring for, like, the eightieth time? (C'mon closet LoTR geeks… you know you've done it…)
The scene of the crime (those words have probably started a lot of stories about Chicago…) was the new (by downtown Windy City standards) steak joint Benny's Chop House, whose wine list is both extensive and, one could argue, extensively marked-up. My dinner-mates were not in the wine biz, but – luckily for me – had generosity and money to spare. Because I'd noticed, in Benny's bar's bountiful body of wines by the glass, a Madeira from 1900.
I've had Bordeaux of just about all stripes dating back to the `60s and even a classic from the `20s, and had the good fortune to taste German wines that pre-date my appearance on planet Earth from celebrated producers in celebrated vintages.  But over 100 years old?  That's like the vinous equivalent of surfers chasing the 100-foot wave.
In what will come as absolutely no surprise whatsoever to wine geeks anywhere, much cajoling, begging and pleading to try the wine then ensued. Successfully, I should add!
While my past encounters with more storied wines of yore have never resulted in a formal review, my brush with this turn-of-the-century greatness – the 1900 D'Oliveiras Reserva Moscatel Madeira – is an experience available to you, since the wine can be found on the market without too much difficulty (though not for too little cash!), and so marks the first time I'm giving a formal review of a very, very old vinous soul…
First, some background, to put things into perspective.
In 1900, McKinley was president for a second term (though it wouldn't last long, poor guy!); U.S. currency was on the gold standard (as in, just on the gold standard, with The Gold Standard Act being passed that year) and the country's flag had forty-five stars on it (Hawaii became an official U.S. territory that year but wouldn't become a full-fledged state until the `50s, like Alaska) – Oklahoma, Arizona and New Mexico weren't states yet.
As for the wine: the D'Oliveiras Reserva Moscatel Madeira is imported by The Rare Wine Co., who have this to say about the producer:
"D'Oliveira is one of the greatest of the classic Madeira shippers, and one of the few to survive from the pre-phylloxera era. Founded in 1820, and today housed in cellars that date from 1619, this small jewel of a company is still owned by the same family, its vineyard holdings built up over time through a series of marriages with other wine-producing families.

But what is really extraordinary is that D'Oliveira has held on to many of its most famous vintages, creating a unique, and irreplaceable, stock of old wines. And remarkably they are all D'Oliveira wines, not purchased from other shippers or growers. Thus, whether an 1862 Sercial or a 1922 Bual, all were produced by the D'Oliveiras and their ancestors, and generally from their own vineyards in São Martinho, one of the great viticultural sites in Madeira, lying just to the west of Funchal along the island's south coast."
The Benny's wine staff was gracious enough to bring out the bottle for me to check out – this one having been bottled in the 1970s, and re-corked in 2006 (ugly cell-phone-with-flash shot included above, for your viewing pleasure – hey, like I said, I wasn't expecting this to go down and didn't have a camera handy…).
Interestingly, I smelled the wine several seconds before I saw it, when it was clear across the table from my nose. I was busy chatting away with my table-mates when I detected the toffee-and-nuts aroma of Madeira, turned my head, and saw the Benny's sommelier coming up on my right to bring me the glass; a testament to just how strong an aroma this wine exuded.
The rest, for me, was and is history. My take is below, and I'll leave you with this: I offered the last bit of my taste to a friend at the dinner.  She spent a good amount of time sniffing the aromas and effusing colorful adjectives about how amazing the thing smelled; then, she knocked back the rest of the wine in one big gulp, like she was downing a tequila shot. Which to me was a testament to how damn good this wine tastes!
We know that madeira is more indestructible than Iron Man, but when a wine this old tastes this fresh, you realize that it's really Madeira's world after all, and you are but passing through it…

1900 D'Oliveiras Reserva Moscatel Madeira
Price: about $500
Rating: A+
You might expect a wine of this age to have a reserved aroma (and I've come across reviews stating that the nose was a bit closed), but I found exactly the opposite. I could smell a small amount of it poured into a dessert wine glass from several feet away – this wine would be more comfortable in a spinster's dancing dress than a cigar-salon-goer's monocle, it has so much spirit and vivacity. It's dark brown, not unappealing to the eye at all.  Aromas of burnt caramel, toffee and toasted nuts come first, followed by a spiciness, not unlike anise, smoke, and ginger, with hints of crushed walnut (shell and all).  Toffee on the palate evolves slowly to a caramel that is still very fresh, then a strong coffee that goes on through a crazy, just insanely long finish, one that is toasty and even a touch savory.  An 111-year-old beauty that is still dead-sexy?  No doubt about it.  This is about as good as it gets with Madeira, and it's main messages are 1) I'm here to party, 2) No, in fact I do not look old to you & 3) See you in another 111 years… if you're really, really lucky.
Cheers!