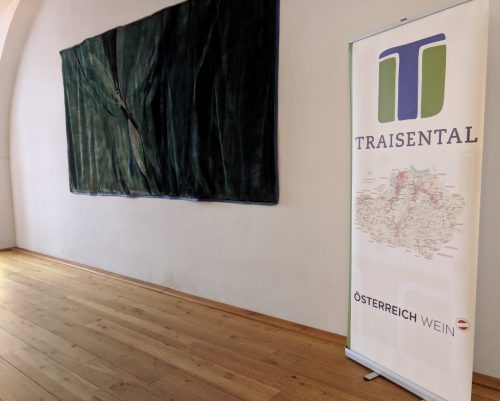 Apologies, right off the bat, for the headline clickbait: not only are we not talking about Champagne, we're not even talking about sparkling wines. In fact, we're really only talking about one grape – Grüner Veltliner – from one spot: Austria's Traisental. Because, well, sometimes I can just be that kind of dick on my own website (for the curious, here's a similar treatment of Austria's Thermenregion, with me probably also being a bit of a dick).
This won't be a waste of your time, however, especially if you love white wines, because the small-but-mighty (a mere 800-or-so hectares, dominated by small growers who farm 5-10 ha each on average) Traisental has some impressive geographical credentials that offer (and mostly deliver) the promise of some killer Grüner.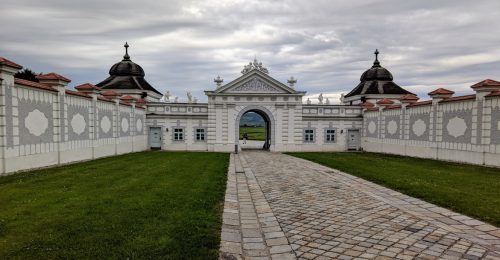 First, there's the Traisen river, the recession of which created many a white wine grape's favorite soil type: limestone deposits. Next, the loess soils here are primarily decomposed stone, with high amounts of chalk. The region's slopes allow cooler air to move down to the valley, which mitigates frost. If all of this is sounding familiar, it's because we can more-or-less say the same things about Champagne, making Traisental among the more unique spots in Austrian wine country.
At the stylish and historic (and difficult to pronounce) Stift Herzogenburg monastery (standing tall since 1244, folks), I tasted through about one billion (that figure may not be accurate) Traisental Grüners during my recent media jaunt to Austria; below, my friends, are the highlights (head's up – I've no USD prices on any of the following, which might just be a 1WD first)…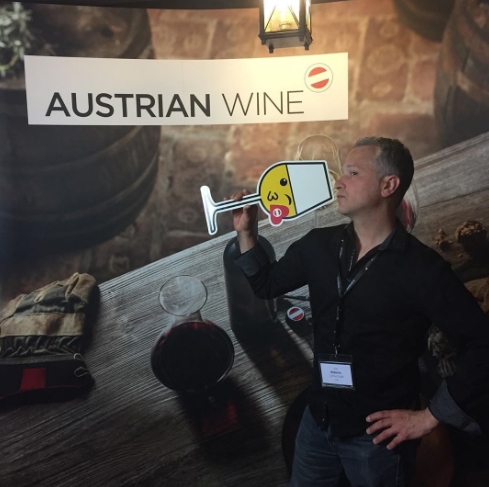 2018 Weinbau Holzler Traisental Grüner Veltliner
Here's about as complete an entry point into the region's Grüner as one might hope to ever encounter. Minerals, fresh herbs, white flower petals, lemon peel, melons, and a great interplay of both palate depth and linear, focused acidity. So basically the whole package, in a well-crafted, friendly, and approachable… uhm… package.

2018 Weingut Steyrer Ried Point Grüner Veltliner
If you like your veggies steamed, with a spritz of citrus juice, then you're gonna be in heaven with the nose on this elegant white. Personally, it was the mouthfeel that finally did me in; lively, lithe, and lovely, with both consistency and a sort of cheeky conviviality. In short, I pretty much loved it.

2018 Karl Brindlmayer Grüner Veltliner Sonnleiten Alte Reben
This is the point at which things began to get very, very serious in the tasting lineup (yes, even more serious than hosting your tasting in a 13C monastery). Lemongrass, herbs, exotic fruits, citrus, chalk, grapefruit for days… all supported by a freshness that is both energetic and fine. Long, potent, and still just a mere baby in a bottle.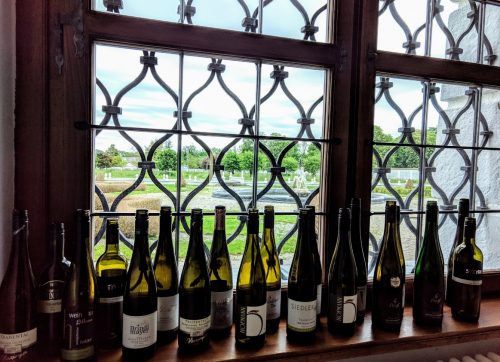 2017 Herzinger Nussgarten Grüner Veltliner
If Grüner could be a super villain, this would be a candidate; there's something sinister about the darker spiciness and drier herbs on its nose. Tons of mineral action, melons, nuts, citrus (naturally), flowers… there's a lot going on here that beckons multiple sips and revisits. While lovely and linear, it has no lack of weight and substance. Don't f*ck around with this one.

2017 Weingut Markus Huber Berg Reserve Grüner Veltliner Erste OTW Lage
Stony, austere, and reserved – so it fits right in with 90% of Austrian architecture. The acidity is fine and focused, the aromas high-toned, the finish toasty, the whole thing vibrant and exceptional. The finish is so long that it might as well have a marathon runner's legs.

2017 Weingut Rudolf Hofmann Fuchsenrand Grüner Veltliner
This Rudolf [editor's note: season joke warning!] should go down in history; this is Grüner at its most captivating, complex, and textural. Citrus fruits are joined by notes of mandarins, veggies, and chalky minerals, all floating on acidity that's lazer-like in focus, but also somehow kind of buoyant. And it caps off with a long finish that feels short, simply because it's so f*cking enjoyable. For those curious about aging potential, the 2015 repeats the command performance, adding toast, petrol, and dried citrus.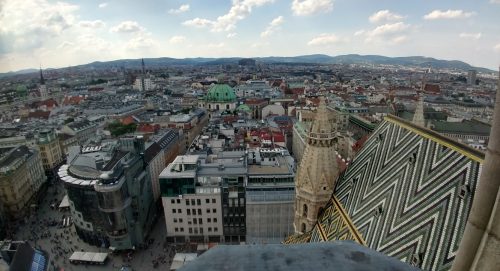 2017 Weingut Tom Dockner Hochschopf Reserve Grüner Veltliner
The Dockner is IN, folks; grapefruit, citrus pith, lemon zest, herbs, wet stones, toast… one sniff and you know this one is not interested in fooling around, and is ready to get to business with Austrian clockwork precision. Fresh, but also generous of body, this is a good one to serve folks who otherwise would be afraid to try Grüner because they can't pronounce it.

2015 Ludwig Neumayer Ried Inzerdorfer Zwirch Grüner Veltliner
At first, you wouldn't suspect that this Grüner had a few years on it, with all of its fresh flower and mandarin aromas. Slowly, it starts to reveal its deeper nature, via candied lemon, and drier herbs. There's great purity and a sort of delineation to the palate, with its ample acids and citrus flavors providing room for one another to develop as you gulp it all down.

2015 Weinkultur Preiss Ried Brunndoppel Reserve Grüner Veltliner
Lookin' fiiiiiine in its older years! Smoke, chalk, heady floral perfume, steamed veggies, herbs, grilled citrus peel… it's a nose that just won't quit. That mature entrance belies a still-youthful palate, bouncy at first, then moving into a more serious, precise, and long, pithy exit.
Cheers!