Hey East Coast Wine Peeps!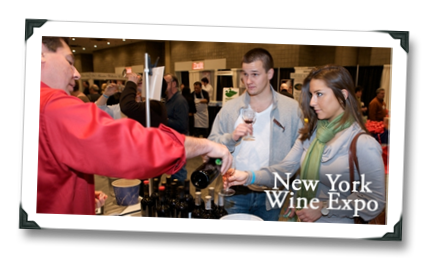 It's that time of year again – the time when I miss the annual NY Wine Expo because I'll be in Napa.  Doh!
But just because I won't be there doesn't mean that you can't get in on the fun via 1WineDude.com – and you can get a $10 discount on the price of the Grand Tastings on Friday and Saturday, just by being a 1WineDude.com reader!
The 4th Annual New York Wine Expo is scheduled for February 25-27, 2011 at the  Jacob K. Javits Convention Center in NYC, and will offer the opportunity to seriously up your wine tasting IQ by sampling over 600 wines from over 150 winemakers from around the globe in the Grand Tastings.
To score your discount, enter the Discount Code WINEDUDE when you order your tix online.
In the past, the Grand Tasting has received mixed reviews from 1WineDude.com readers – some find the big crowds off-putting, others are more inclined to brave the large turnout for the chance at networking and getting to taste the large array of wines from all over the world.
Personally, I'm somewhere in the middle – I love a good crowd, meaning a crowd that's passionate and energized with a feel-good vibe going (and of course I dig the chance to taste a nice variety of fine wines), but if too many folks get plastered because they're not spitting then things can get ugly.  And if that happens, those big events can sometimes turn into big bug-outs.
Where do you stand on big wine tasting events?  Good?  Bad?  Indifferent?
If you're going, check out my mini survival guide for getting through these big tasting events alive.
Cheers!