Well… are they?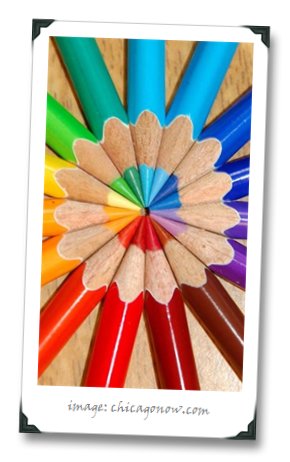 Some background: Wine critics generally use a 100-point scale when evaluating wines (I know most of you know this, bear with the exposition, people!). I don't, because I think it implies a level of accuracy in evaluating a moving-target product (that can change within hours in the glass, let alone within years in the bottle) and so I (begrudgingly – hey, you asked for them!) use a "fuzzier" scale to evaluate the wine that I'm fortunate (and, ok, sometimes not-so-fortunate) enough to have cross my lips.
Generally, it's assumed that many (probably most) wine critics reserve some part of their rating score for a wine's color. For example, long-time Wine Spectator editor James Suckling once explained via video how he doles out his points when reviewing a wine, in which "things like color get 15 points."
But is a wine's color an important enough aspect on which to base 15% or so of one's critical rating?  According to a (very) informal poll I took recently via twitter and facebook, the answer is probably "No."…
It's not that color isn't important – it is, as any hard core wine geek (like me!) should be more-than-willing enough to tell you.
The clarity of a wine (which is, in some sense, an aspect of its color) can give you a hint as to whether or not the wine is flawed (there are many, many exceptions to this, but generally spoogy gunk misting up your wine inside the bottle is a portent of bad things to come).  Color can reveal a ton of info about any given wine for the truly geeky, most notably the general age of a wine (reds generally brick and get lighter with age, while whites generally darken and take on browner tinges) and maybe even the grape variety, given enough evaluation experience.
But the average Joe and Josette don't seem to give much of a hoot about a wine's color.  Even those with modest wine experience (again, based on my totally non-scientific, gut-reaction twitter & facebook "poll" I took last week) seem to have clued in on the fact that a darker red doesn't necessarily indicate a more robust wine, a lighter red doesn't necessarily indicate a softer or fruiter wine, a lighter white doesn't necessarily mean a more refreshing wine, etc., etc., etc.
Disclaimer: Yes, this crowd-sourced stuff is subject to the evil Fallacy Of Small Numbers, so I will spare you a list of the exact responses.  But I'm not one to doubt the wisdom of the collective crowd when it comes to wine matters, particularly when that crowd consists of people who are wine lovers!  In other words, this is not the be-all-end-all on the subject by any means, but it's not something to casually dismiss, either.
Anyway… In the end, a wine's color can be beautiful, even spellbinding, but not necessarily an indication of future olfactory or gustatory performance – and 1WD readers have garnered enough experience under their gustatory wine belts to be pretty certain of that.
And while there's little doubt that a wine's color gives real aesthetic pleasure – have you ever seen the color on a world-class Tokaji?  it will positively blow your f*cking mind! – there's certainly doubt to be casted on whether or not a wine's color that pleases you will please anybody else. In terms of pure aesthetic pleasure, my wine color Picasso-Blue-Period might be your personal failed-art-student-water-color.
Part of the general lack of color-concern on the part of wine consumers is likely due to the level of filtering/clarifying/fining to which many wines are subjected now in order to achieve maximum clarity and luminosity. It can be argued – and is argued in the stunningly tasty results of cloudy wines such as Churchill's White Port and the Natural Process Alliance's Sauvignon Blanc – that too much of that processing robs a wine of some its more interesting characteristics.  For better or worse, as wine drinkers we've accepted and established a wine-color standard (or, at least, we've let the most influential wine critics establish a standard), but like the current woeful state of airline travel service, or the proliferation of high alcohol fruit-bomb wines, this might not necessarily be the standard that we need.
As for me, after examining the wine visually for flaws, etc., I generally only note a wine's color if it's particularly stunning to me, and generally this doesn't make or break a review/rating – aroma, taste, mouthfeel, and finish far, far, far outweigh the color in my reviews. In fact, my color-rating percentage is probably more like 2% or 5% in my wine-rating-fuzzy-math.
So it seems that a good portion of the 15% or so of valuable review point space is actually wasted on evaluating whether or not a wine's color is up-to-snuff (at least when it's measured on an informal standard), when the customers of those reviews – the wine-buying public – might not care the 15%-worth about it themselves…
Should our point-scoring critic friends save the 15 points and doll them out in other areas that matter more?
Cheers!