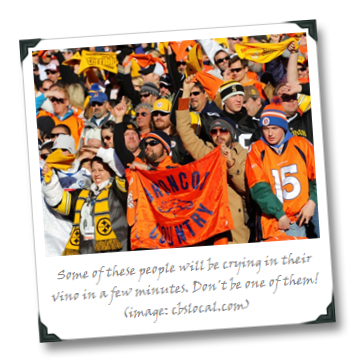 It seems that venerable news-aggregator has stumbled upon the apparently news-worthy advice that shopping in the "Bin End" section (so named, as I understand it, because these were often literally bins of wine stacked up at the end of the aisles in wine shops) of the wine store is a good place to find vinous bargains.
To the tape:
"…you can also score some discounts by looking for your wine or liquor store's "bin ends" section, or bottles with scratched labels, wines or vintages that are bout to be rotated out of stock, or just not a great seller at that store."
But not all is a bowl full of rosés in those end bins. The trouble with the bin-end-bargain advice quoted by Lifehacker (which is a re-blog of wine buying tips from TheKitchen.com – the rest of which are much more sound, by the way) is that quite often the wines offered in bin ends aren't much of a bargain at all.
If you're not careful, shopping those bin end bargains might actually leave you more disappointed than a Steelers fan after an improbable NFL post-season Tebow-ing (full disclosure: I'm a long-time Steelers fan, so, yes, this is cathartic for me, okay?)…
If you do decide to take TheKitchen.com/Lifehacker.com up on their advice to storm the bin ends section of your regional wine shops, study this game-plan to avoid getting Tebow-ed for your $10:
Know this: there's a reason those bin-ended wines are poor sellers.
It could just be some of the labels got screwed up in shipping, but in my experience it's much more likely that the bin ends are full of wines that did not sell and so the retailer is trying to get rid of the inventory by slashing prices. Now, that can be a very good thing if the slow sales are due to a down economy, or an "off-vintage" that got lower critical scores but are still probably really good wines. But it could be because the wines weren't actually very good to begin with.
The bigger the retailer, the less likely the bargain.
Again, this is from personal experience, but the larger the retailer the more inventory they have to buy and then dump off if it doesn't sell. Which means the big boys are almost certainly discounting something there that didn't sell (see #1 above).
Don't expect crazy-good bargains. There will not – I repeat NOT – be first-growth Bordeaux stacked up in the bin ends on sale for 50% off the SRP because the labels got ripped a little bit during shipping. Don't go looking for the deals of the century in those bins, because you will not – I repeat NOT – find them.
Look, shopping in those end bins and/or asking for a look at discounted inventory is a good idea for bargain-hunters – but save yourself some trouble and try it with shops that you trust. You won't be saving a ton of dough on the wine in those bin ends, but you might save a few percentage points off of SRP, and in these tough times that might be reason enough to go to the extra trouble of asking the shopkeeps (with the added benefit of possibly striking up a relationship with those sellers that could blossom into full-fledged bargains on really good juice for you in the future.
Cheers!