Well… I'm not exactly sure how to follow up that title, so let's just jump into it; forthwith are the Wine.Answers.com articles I published this past month: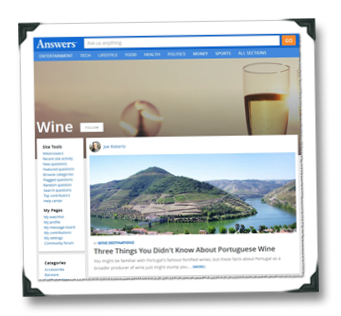 Three Things You Didn't Know About Portuguese Wine – I'm scheduled to do some touring (and speaking) in Portugal in November, and in boning up on all things Portuguese for that trip, I came across a few trivia tidbits that fascinated me (because, well, I am a nerd).
Three Things You Didn't Know About Chablis – My next contribution over at Snooth.com will be a vinous tour of some of the levels of Chablis. As a primer, here are some interesting facts about the wine snob's wine snob's favorite Chardonnay region. Yes, I did two of these in September; sorry, I have so much fun learning as I research them that I can't help myself, alright?
Wine Book Review: "Hugh Johnson's Pocket Wine Book 2015" – Does the world need yet another edition of this perennial little reference? Indeed, it does, as the format of this book, packed with an impossible amount of useful information for such a small footprint remains a winning formula (but if you have the 2013 or 2014 editions, you can probably hold off on replacing it for now, or opting for the digital version instead).
Wine Book Review: "The Essence of Wine" by Alder Yarrow and Leigh Beisch – Full disclosure, Alder is a friend of mine. Now, that wouldn't stop me from panning his new coffee-table style wine book if it sucked, which it most certainly doesn't. The short version is that this gorgeous book deserves the attention of budding and jaded wine aficionados alike.
Cheers – and happy reading!