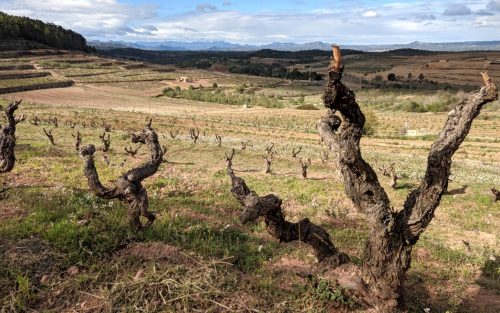 Albert Jané knows how to work a wine media crowd.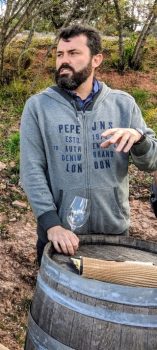 If you want to quickly win over such a group of wine geeks and influencers, you would have had access to a minor clinic in such powers of persuasion had you tagged along during my recent media tour visit to Jané's Acústic Cellar, in the Montsant town of Marçà.
The script went something like this:
Take them to your gorgeous vineyard, replete with panoramic views of the mountainous Catalan countryside; show off your small two hectare lot of 40- to 80-year-old bush-trained Garnatxa and Samsó (a.k.a. Carignan) vines; say things like "the best barrel is the one you don't taste," and "the best winemakers here are the vineyards;" and gleefully pour your vinous wares, which happen to be excellent. Oh, and also serve delicious Spanish cheese.
Anyway…
Jané describes his wines as "unplugged" (hence the yeah-yeah-I-get-it cleverness of his company moniker), and it's a fitting term for a winemaking style that seeks to showcase the concentrated, small clusters/berries of the organic fruit that Acústic's old vines produce. Jané's approach is relatively old school, favoring hand-harvesting and minimal oak treatment; which seems fitting, considering that his grandfather was a winemaker, his cellar is an old textile factory, and much of the exclusively indigenous vines in his vineyard were planted in the 1930s. Here's a look at the latest quartet playing the Acústic Cellars tune…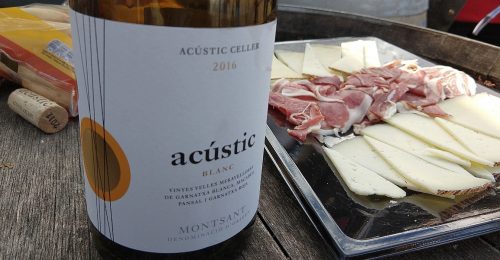 2016 Acústic Celler Blanc (Montsant, $18)
Mostly Garnatxa Blanca, with Macabeo and a few others thrown in there in small amounts, this white is floral, rich, tropical, and heady, with a substantial and silky palate. What really blew my away was how textural the palate was for such a hefty wine, and how well the mineral tones showed through. Lest you be concerned with how well it ages, we tasted back to the `11 and it showed some lovely, honeyed goodness. And for a sub-$20 white, it's overachieving in a big way if it can give you that much pleasurable drinking after even a couple of years or repose in the bottle.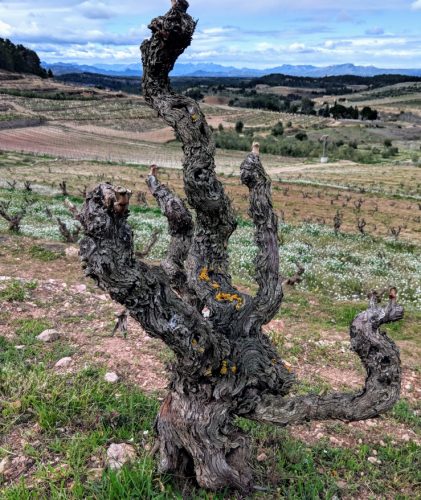 2015 Acústic Celler Tinto (Montsant, $20)
Mostly Carignan, with 30% Garnacha, all from vines that are between 25 and 60 years of age. There's a bit of French oak spice on the nose here, though the barrels are clearly not new, and the wine is powerful, fruity, plummy, deep, juicy, and big. I'd go so far as to say that it's flashing a come-hither look at you, so keep this one in mind for date night dining. There's future promise here, too, by the way; tasting back to the 2007, the plummy profile remains, but that older offering still seems fresh and young (though it did take on more floral components).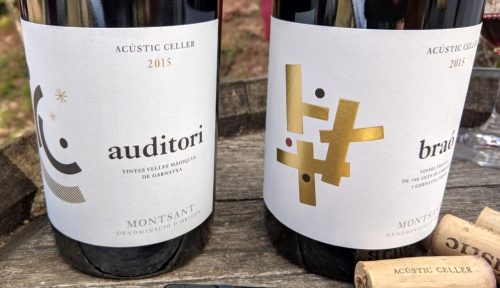 2015 Acústic Celler "Auditori" Vinyes Velles Magiques de Garnatxa (Montsant, $55)
All Garnacha, from some of the oldest vines on the Acústic estate, this is so dense and plummy that it's almost jammy; it's also floral, spicy, savory, and sporting serious licorice tones. While undoubtedly powerful, Auditori is also fresh, delicious, and fruity enough to leave you with a lasting, impressive, well,  impression.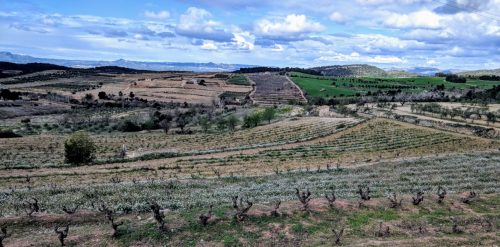 2015 Acústic Celler "Braó" (Montsant, $33)
Guess what? Old vines, again, these averaging about 40 years (with some in the 60 to 95 year old range), with the emphasis (80%) on Carignan, and the remainder filled out with Garnacha. The yields are, understandably, quite low with bush vines in this age range. The result is warm, buxom, dense, ripe, and delicious. It's also complex: violets, licorice, baking spices, plums, and even some graphite. Probably my fave out of this quartet, especially considering how the 2007 turned out (inky/extracted/dense, of course, but also savory, floral, and still sexy). The moniker is supposed to evoke strength and courage in Catalan, and, well, yeah, that.
Cheers!