When you are parents to an active, creative, inquisitive, overtly-social, never-seems-to-stop-talking-like-EVER toddler, you don't mess around when it comes to date night.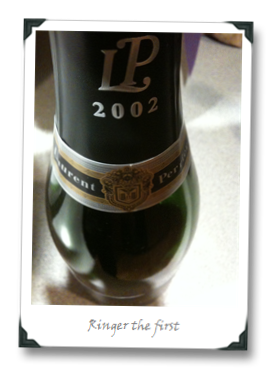 You've got something along the lines of three hours to enjoy dinner, drink wine and indulge in adult conversation. This is not, therefore, a time for risky experimentation. You do not go for totally unknown quantities – you go for ringers.
Which is precisely what I did this week when (a rather harried and child-care-worn) Dude hit my fave local Italian joint on date night (if you visit, I've got three words for you: Cannelonni di Carne!).
Anyway… I tough week of childcare inspired me to double-team my date's ass, vinously-speaking, pulling two such elegant and downright-gorgeous ringers from the "holy-crap-where-am-I-gonna-put-this-stuff"-sized sample pool – a vintage bubbly direct from the area that started it all, followed by one of the brightest stars of the shining Pinot Noir galaxy that is the Sonoma Coast.  Yes, both are flirting with the too-rich-for-my-blood price range, and at least one of them is flirting with where-the-f*ck-can-I-find-a-bottle-of-this-already availability due to its small production, BUT… both are stellar, expressive, beautiful wines, and are well-worth your wine geek time seeking them out. Now, since I'm flirting with stringing-too-many-words-together-with-hyphens territory, let's get to the real meat on this plate…

2002 Laurent-Perrier Millésime Brut (Champagne)
Price: $69
Rating: A-
2002 in Champagne (one of the few wine regions where you're actually better-off paying attention to harvest and vintage reports) saw some amazing quality fruit for those villages that didn't get hammered too much by frost. This L-P shows off all the great qualities of the vintage: an amazing mousse and mouthfeel that's textural, biting and somehow soufflé-foam light all at the same time; apple-bread aromas; a heady, perfumed nose of flowers and citrus.
I likened it to a Van Gogh painting in a glass: really textured, but also beautifully rendered. The kicker is that this wine is still a far cry from its peak drinking window, as there's still a slight bitterness on the finish that will round out with time when it likely will develop more honeyed characteristics. In other words, as good as it's drinking now, it will be even better in about eight more years; and there are very few cares of the day that wouldn't evaporate from your mind just at the sight of this beauty foaming up in the glass (more details on this vino).

2008 Cobb "Diane Cobb: Coastlands Vineyard" Pinot Noir (Sonoma Coast)
Price: $78
Rating: A-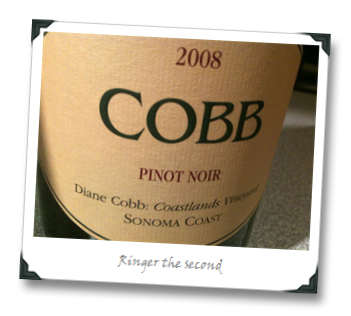 Winemaker Ross Cobb seems to know just about everybody in the Sonoma Coast area wine scene, probably because he's worked for or with just about everybody in the Sonoma Coast area wine scene. His youthful appearance belies the accumulation of all of that wine knowledge and experience, which he puts on full display in just about every bottle of the small production that Cobb Wines releases each year. Only 160 cases were made of this gorgeous Pinot (good luck finding it – it's worth the hunt, though), from fruit that comes from a nursery block of 20+ varieties of PN vines planted by Diane Cobb with the help of UC Davis in the late `80s, many of which are still growing on their own native roots.
The first thing you'll notice about this wine is it's overly-expressive red berry fruitiness, kind of like a evening gown that's a little over the top, almost distracting. Things quickly settle down, though, and the underlying complexity of the wine, and its true beauty, starts to come through: peppery spice, citrus pith, smoky incense, leather and even a little chocolate. It feels sexy but also restrained – like a well-produced love scene between big-name actors in an Oscar-contending flick. Just the thing for a temporary respite from screaming-toddler-city (more details on this vino).
Cheers!