"…like a Viennese waltz in my mouth…"
Thus read the words of CellarTracker.com member Kdawg, in his (her?) New Year's Eve 2007 tasting note of a 1995 Château d'Yquem.  For those who don't yet know about CellarTracker, it's a veritable institution in the on-line wine world, offering on-line wine management and community tasting notes.  I mention this only because the community tasting notes on CellarTracker.com are widely regarded as being notoriously tough in their wine ratings (which are offered on the 100 point scoring scale). 
So it's somewhat remarkable that the tasting notes available on CellarTracker.com for the `95 d'Yquem average a score of 94.45 (excepting an outlying blank anonymously submitted score of a 50 – including that would bring the average down to a 93).  The highest score offered was a 99/100.  Any way you slice the numbers, it amounts to praise of the highest order when it comes to the annals of CellarTracker.
At a Whole Foods wine bar in Virginia, I recently had an opportunity to try a glass of the `95 d'Yquem.  How was it?  Well, it was pretty f—king good.  More on that in a minute or two.  Or three.
Of course, it wouldn't be 1WineDude article without a twist, and the sand-in-the-condom of this potential vintage d'Yquem advertisement is this:
If you paid $150 for a 375ml bottle, aren't you predisposed to say that it's great?  How much economic investment causes so much emotional investment that it clouds your judgment?  Could a hefty price tag perpetuate the hype of a wine's awesomeness?…
It's not that the d'Yquem I tried was an ordinary wine – far from it – but the anticipation and backstory surrounding any bottle of this wine would peg anybody's hype meter into the red.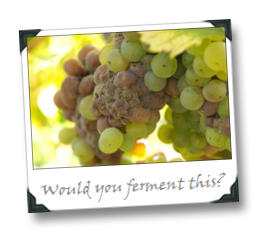 It's been that way for at least the last 200 years – when Bordeaux's wine houses were (in)famously classified by decree of Napoleon III for the 1855 Exposition Universelle de Paris, d'Yquem was deemed a Premier Cru Supérieur; or, "Superior First Growth."  No other wine in any area of Bordeaux was given that designation, which logically suggested that d'Yquem was considered Bordeaux's best wine (or at least its most expensive).  Jefferson and Washington (yes, that Jefferson and that Washington) both ordered bottles.
d'Yquem has had only a handful of owners since the late 1500s, the latest being the French company LVMH (for more on that troubled history, check out William Echikson's Noble Rot), and it's been a vineyard property since at least the early 1700s.  Location is everything when it comes to d'Yquem – it's position near the Gironde promotes the near-perfect development (or so we've been told ad nauseum through countless wine tomes) of Botrytis cinerea on its Sémillon and Sauvignon Blanc grapes.  "Noble rot" looks downright awful, but by helping to shrivel the grapes on the vine it makes for amazingly complex, long-lived, and deliciously sweet wine.  The fruit looks disgusting, but the unctuous result is anything but ugly.
I like to imagine that the wonderful ennoblement imparted by noble rot was discovered accidentally, or out of desperation by down-on-their luck vineyard owners somewhere in Bordeaux:
"Merde! Look at zees grapes! Zey are ruined with zee rot!"

"Putain! I don't care what zey luke like – we need to zell some wine, put zem in the vat!"
According to Ch. d'Yquem, the `95 vintage was unique – an unusually mild Winter was followed by a Spring and Summer that were both very hot and very, very dry.  Dry until mid-August, that is, when an enormous storm dumped 115 mm of rain in two hours.  As is customary for d'Yquem, several passes of by-hand grape harvesting took place in September, but these were unusually concentrated in a near-consecutive 14-day period during which they found that 80% of the grapes were fully botrytised.  The trick was in taming the power of the increasing sugar levels and skyrocketing potential alcohol during the days of harvesting.
Presumably, it's the long (3+ year) aging in new oak, and particularly the hand-harvesting by knowledgeable, at-the-ready vineyard staff that account for a good portion of the d'Yquem's high per-bottle cost.  I have heard it said by a very experienced and accredited wine professional that no bottle of wine, including d'Yquem, should ever retail above $80.  I'm sure d'Yquem would bristle at the remark, and challenge its validity, but the bottom line is that you're paying for prestige, experience, and a good bit of artistic expression when it comes to d'Yquem – bit like the Manolo Blahnik of the wine world. 
In the end d'Yquem is expensive because it can be.
So how did all of this history taste?
Following are the vintage tasting notes from the d'Yquem website, and my humble 140-character take on twitter: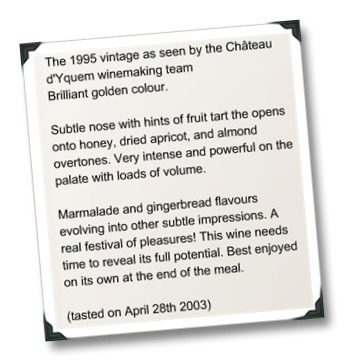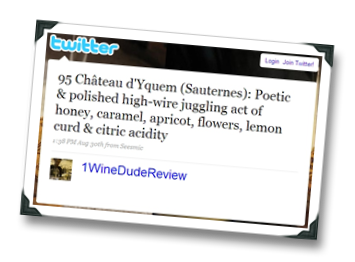 I think I'd rather go with  "…like a Viennese waltz in my mouth…"
Cheers!
(images: wine.com, blogwinecellar, www.yquem.fr, twitter.com)