Ten years ago, on a trip with friends to New York's Finger Lakes wine country, I bought a few bottles of bubbly.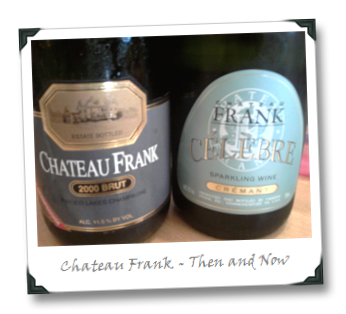 I was not a pseudo-wine-pro back then; I was an avid consumer (that term still applies!), and the majority of my vacation travel was centered around wine exploration.  I had a budding interest, passionate zeal, and I knew what I liked though I would have had a lot more trouble telling you why, or explaining how, a wine I liked got to that point.
It was one of those gorgeous sunny Autumn days that was quickly turning into a chilly Autumn evening (no sun = no heat) and most of the Finger Lakes tasting rooms were closed or moments-away-from closing; we happened upon what was then a joint-producer tasting room featuring only local sparkling wines.
I knew what I liked, and I really liked the 2000 Chateau Frank Brut that evening.  So, my girlfriend and I bought some.
Ten years later, at the surprise 50th birthday party of one of dear friends (who helped us greatly in getting through the tough times leading up to the recent loss of our Weimaraner, Samson, and to whom we gave a bottle of 2007 Quinta do Vesuvio so you know we love her), I had occasion to open the 2000 Chateau Frank Brut – Dr. Frank is one of the birthday girl's favorite wine producers (alongside the most recent offering of Chateau Frank's non-vintage Riesling sparkler, Célèbre Cremant).
And it rocked.
The fruit had started to subside a bit, but what remained was bready, lively, and wonderful; still fresh, still food-friendly, still (in the words of Simple Minds) Alive & Kicking.
An apt comparison, it turns out, for the state of NY wine in general…
The topic of NY's coming-of-age wine party has been on my mind, on-and-off, since my trip earlier this year to the Finger Lakes, during which the thing that impressed me most was the much-improved state of the region's red wines.  Combine that with the best sparklers and still whites from the region, and the excellent state of affairs in Long Island's wine offerings, and you have a region that wine lovers ought to be excited about.
NY is not without its wine issues – prices can be too high; reds can be too thin; quality can be too all-over-the-place (a situation that plagues the wine production across much of the East Coast, by the way). But when it's right, it's so very, very right.
It seems to me that wine geeks and pros like to talk about Right Coast wines  (particularly Virginia) as being exciting, enticing, and possibly The Next Big Thing; meanwhile, NY is actually delivering in ways that areas like VA and PA are only beginning to touch.
We're even seeing (gasp!) above-89 point scores for NY wines from the mainstream wine mags.
Finally.
I'm not here to diss VA wines – some of them are excellent and Cabernet Franc from VA is going to be epic someday – I'm just pointing out that NY wines are already there.
Am I the first to point this out?  Of course not.  There are great pieces being written about NY wines every day over at New York Cork Report (I especially enjoyed the take on the age-worthiness of FL sparklers that NYCR writer Evan Dawson posed earlier this year), and harvest reports in publications like Sommelier Journal are devoting increasing amounts of print real estate to covering the region's wine production.
I'm just adding my virtual fist-pump to the vinous products of NY.  I view myself as a bit cosmopolitan when it comes to wine, in that I'm not afraid to champion something I like no matter where it's from, and I have the benefit of tasting wines from all over the world.  So from the standpoint of comparative analysis, when it comes to the Finger Lakes in particular I can tell you that I haven't been this excited about a wine region's potential and its future in a long time.
All of which is a long-winded way of saying that the respect being directed towards NY wines is overdue, and if you're missing out on trying the wines of NY because of point scores, lack of traditional media coverage, or any other reason… well, you're just missing out.
Cheers!
(image: joe's crappy cell phone cam)