Making wine at J.M. da Fonseca's José de Sousa in Portugal seems, from what I can discern, like a huge pain the ass.
First, they're fans of lagare foot-treading their grapes, an effort that is full of, well, effort. Next, when they do use basket presses, they're covered in a specially approved blue paint that has to be reapplied annually. They've gone all-in on the ancient Alentejo tradition of aging wine in talha (clay amphora), topped off with olive oil as a seal against oxidation. And when I say "all-in," I mean all-in: José de Sousa houses 114 amphora, most larger than a fully-grown adult human male, some dating back to the 1800s (the talha, I mean, not the male), and each requiring stirring twice per day when full, to keep them from potentially exploding. Finally, they have to contend with finding the occasional Stone Age era relic on the property; some of which, according to winemaker and vineyard manager Paulo Amaral, were worshiped as phallic symbols in ancient times.
Also according to Amaral (who I met during my media jaunt to Alentejo last year), winemaking utilizing clay pots adds additional headaches that aren't easily remedied: primarily, the fact that it's simply not easy to get a replacement when they do happen to explode. Crafting talha is largely a lost art, especially in Portugal, where newly crafted pots are both expensive and their durability not yet time-tested. Replacements can be found in Italy and Georgia, but they don't come cheap…
Are the results worth the extra efforts? In a word: yep.

2018 José Maria da Fonseca José de Sousa 'Montado' Branco (Alentejo, $NA)
Named after a cork tree forest, this lively blend of Antão Vaz, Verdelho, and Sauvignon Blanc from clay soils is chock-full of lemon grass, pear, just-ripe tropical fruits, and white flower action. It's lovely stuff, textural, fresh, and likely to turn heads and quickly empty glasses at your next cookout.

2018 José Maria da Fonseca 'Ripanco' Private Selection (Alentejo, $12)
Taking its name from old-style grape sorting tables, you'd be hard-pressed to tell that this mineral, spicy, and bright mix of Syrah, Aragonez, and Alicante Bouschet has 9 g/l of residual sugar. It comes off as fresh as a daisy, with a grip, pepper, blue flowers, and possessing a distinctive chill-it-for-lunch-on-the-bistro feel.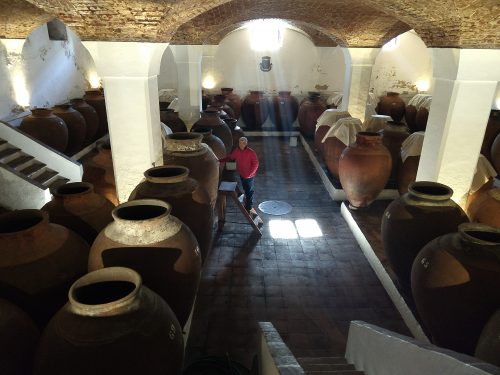 2017 José Maria da Fonseca José de Sousa Tinto (Alentejo, $19)
Including Grand Noir, Trincadeira, and Aragonez, this tinto comes off as pure, fresh, spicy, and vibrant (sensing a pattern here?), with red and black cherry flavors, and great persistence. There is power here, and there are dusty tannins for sure, but despite those factors it's a total foodie wine, and one that's punching above its list price's weight class.

2015 José Maria da Fonseca José de Sousa 'Puro Talha' Tinto (Alentejo, $NA)
Same blend as the Tinto, only adding a bit of Moreto, and undergoing foot-treading and some time in old wood chestnut barrels and clay. Already on the oxidative side, with baked red fruits and tons of spices, the palate feels younger than the nose: vibrant, edgy, and textural. Tangy red fruits wrap things up on the finish of this unique sipper that's still a crowd-pleaser despite its eccentricities.

2016 José Maria da Fonseca José de Sousa 'Mayor' Tinto (Alentejo, $NA)
Another foot-trodden blend of Grand Noir, Trincadeira, and Aragonez, but coming from older vines and spending time in all new French oak, this one is young, very long, and very fresh. Chewy, concentrated, big, and deep, the fruits are red and black, the aromas herbal, floral, and woody, the overall feeling expertly crafted and delicious.
Cheers!