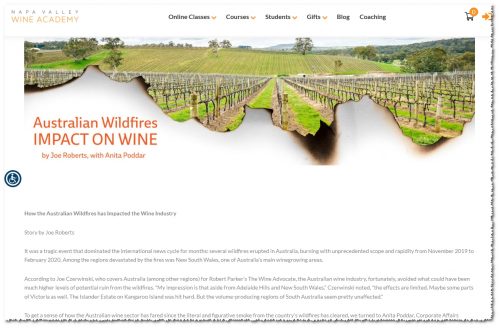 In this time of… well, intense stress and social weirdness, I'm happy to share a bit of good news.
My latest for the Napa Valley Wine Academy is now available; that itself isn't the good news, but the topic of that piece is: in How the Australian Wildfires has Impacted the Wine Industry, I talk with Anita Poddar, Corporate Affairs Manager for Wine Australia. Poddar lays it all out for us on the impact to – and recovery of – Australia's wine industry now that the country's latest, record-setting wildfire crisis is finally abating.
We discuss what consumers of Australian wines can expect in terms of the impacts from the wildfires, what's being done to assist the recovery of the Australian wine industry, and what the global wine community do to help.
Head on over for a bit of not-so-terrible news, and a change of headlines pace from what's become our new over-stressed normal.
Cheers!
How the Australian Wildfires has Impacted the Wine Industry