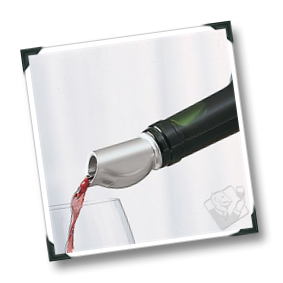 If you've spent more than 0.7 seconds searching the Internet for wine-related products and accessories, you will already no doubt be familiar with aerators, those versatile solutions for modern wine living that promise to mellow and round-out your wine by exposing it to copious amounts of air.  This is supposedly the same as decanting a wine for an extended period of time, but claiming to achieve the results much more quickly (in seconds vs. hours).
Decanting works wonders on many an old fine red wine, and often on less fine younger wines, by increasing the amount of surface area of a wine exposed to air. Air then works its chemical miracles to help release aroma compounds in the wine, essentially speeding up the aging process, which for fine red wine more-or-less follows a curve over time from tight/harsh to yummy to vinegar.
Notice I said "fine red wine" and not "red wine."  Most wine on the market doesn't throw sediment as it ages, and is meant for early enjoyment, and rarely needs decanting to soften it up.
Anyway, I had an opportunity to dive into the sample box and come up with two products that claim to aid in aeration.
About time for another wine product smackdown, methinks!…
The Products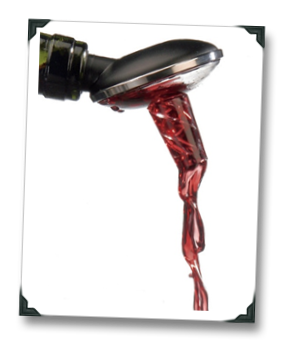 The Patent Wine Pourer & Stopper from Wine Enthusiast.  Primarily an attachment that helps prevent drips when you pour your wine, it also claims to have an extended inner chamber that aerates the wine as it's poured.  About $19.
The Experiment
My tasting group (me + the little Dudele, who only watched to oversee the objectivity of the experiment) used a very young Malbec from Argentina, which is a wine high in tannins and was of good enough quality that we deemed it could be softened by a few hours of decanting.
Three identical pieces of stemware were used, in which we separately poured the control group (straight from the bottle), the Wine Pourer / Stopper group (henceforth referred to as WP/S since I'm too lazy to type the whole thing out again), and then the Spinwine group, all into separate stemware (duh).
The Results
Control – As you'd expect, the wine was good with black fruit and leather aromas, but was "tight" although enjoyable.
WS/P – Pouring the wine form the WS/P was relatively easy, though the stream / flow into the glass seemed slower than normal, as if the bottle had some kind of benign prostate enlargement problem.  The resulting aromas were actually more muted than the control group, prompting confused looks all-around.
Spinwine – Visually, the Spinwine did an impressive job of, well, impressing the tasting group (especially our baby daughter).  As the wine is poured, it hits the glass with noticeable bubbles and the spinning pour is at least entertaining.  In terms of how well it aerates the wine, it clearly does something, as the wine was softer on the palate and perceptibly more open and fruitier on the nose.  Having said that, the difference versus the control group was not deemed to be substantial.
Conculsions
I've tried experiments like this with other aeration products before, and while they usually work, they aren't a one-for-one equivalent substitute for decanting.  While decanting was not one of the options in this little experiment, I'd be willing to bet that while the Spinwine came out on top in terms of noticeably aerating the wine versus our control group, it's still best to decant for an extended period of time if you really want to soften up a young, tannic red.
Personally, I'd avoid the WS/P altogether, unless you like your wine subdued.
Cheers!
(images: wineenthusiast.com, cheapfunwines.com)