I first met Master Sommelier George Miliotes during  a press dinner at the Cherry Hill, NJ location for Seasons 52 (for whom George holds the beverage director chair).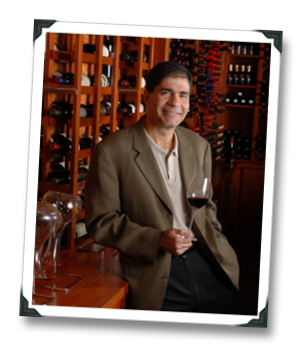 George is a down-to-earth, affable guy with a clear passion for sharing the joys of our favorite beverage, and he has a wry smile that came out whenever I talked with him about wine; it's the kind of smile that suggests that he knows some great insider information, the kind of smile that says "yeah, well, just wait until you hear about this…"
During the press dinner, I sat at the far right-hand corner of a table filled with a handful of journalists and "seasoned" Seasons 52 frequent customers.  George, directly on my right at the head of the table, picked up on my intense wine geekiness during the dinner and for a while I more or less monopolized his attention as our serious wine geek antennae came out and we spoke the enthusiastic but often obfuscated language of those for whom wine knowledge has become a borderline obsession.
In other words, it was great, and I instantly liked George.
I thought it would be fun to pick George's brain about the life of an M.S., what it's like to put together a wine list that has to pair successfully with a menu that changes frequently and incorporates different local ingredients by location, get his insights on blending wines for Seasons 52 and see what he thinks of important trends in the industry.
Hope you all agree about the fun part – and enjoy!…
1WD: Let's get this question out of the way first, because I'm sure it's going to be the first thing on 1WD readers' minds: how difficult was it to achieve the Master Sommelier title?  I'm assuming that the Master Sommelier Diploma Exam is not exactly a walk in the park…
George Miliotes: Yes it was difficult but anything good is difficult.  At the same time, it was immensely enjoyable and rewarding.  You meet so many really special people while studying, and after all what's wrong with tasting a lot of excellent wines?  One must have singular focus, though, on what is going on in the beverage world and have a passionate love of service and people.
1WD: What are the more rewarding aspects of the having the achieved the MS?  Do you get to refer to the Level III Sommelier students as "Those Junior Varsity guys"?
Being able to interact, train and share the beverage/wine world with guests and our teams is far and away the most rewarding aspect of being an MS.  As far as those JV guys, you never know who might have grown up in a wine growing area or have a family member who has devoted her or his life to one wine area of the world.  So, I believe in treating them all with respect … you might learn something.
1WD: When I met Cliff Pleau at a media dinner for the opening of the Seasons 52 King of Prussia location, I joked that your job was easy, because you're pairing these foods that, while not easy to source and make, have simple ingredients and lots of possibilities for pairing each dish with wine.  Cliff of course defended you and mentioned your busy travel schedule (he skipped the part about getting to eat and drink some of the best foods and wines in the world on a regular basis, though).  What's a typical week like for you as a beverage director?
George Miliotes: I am truly lucky to have one of the coolest and most interesting jobs in the world.  Yes, it is nice to spend time in Spain, South Africa or Napa Valley tasting (and eating) but each of those trips has a business reason and payoff.    So, while I am writing this I am on my way to train our newest team for our Schaumburg, IL, Seasons 52.  This means being "on" from 8:00 AM till 5:00 PM Monday to Friday answering all beverage questions and modeling how a team member should be of service to the larger team.  After 5:00 I will need to answer the 100+  emails that have piled up, plus phone calls and fires to put out.  I love it…
1WD: Cliff also told me that it's surprising what changes have to be made when opening Seasons 52 in different locations; for example, the Cherry Hill NJ customers were totally confused on the red velvet cake dessert, and were wondering where the shoofly pie option was!  How do approach building the wine list for Seasons 52, considering that the restaurant focuses on seasonal changes and local ingredients, and has to support some localized differences in the menus for each location?
George Miliotes: We are very lucky that we have an international wine list with 60+ wines by the glass across 23 varietals.  There is a wine for any food or ingredient that may come up.  I say bring on the local differences!!!!
1WD: In your opinion – and I'm going to try to be restrained here – how do the monopoly-building, lobbyist-dirty-money-supported, Communistic, unconstitutional laws governing the sale and distribution of alcohol in some of the states in which Seasons 52 operates impact your wine lists?  Have you ever wanted to sucker-punch PLCB Chairman Patrick J. Stapleton?

George Miliotes: I'm not sure if this question is tongue-in-cheek or not, but in all seriousness we always abide by the letter and spirit of all federal, state and local laws governing the sale of alcoholic beverages.
[Editor's note: It is theoretically possible that PLCB henchmen forced George to answer that way under duress…]
1WD: Have you ever pumped RUSH's album 2112 through the PA system at Seasons 52 and then air-drummed to the Overture intro?  Because I would totally do that if I worked there…
George Miliotes: I prefer a little air guitar to U2's "Where the Streets have No Name," but who could pass up on the chance?
1WD: You've worked with vintners to create wines specifically for Seasons 52.  Tell us a bit about that process and how those opportunities came about.  Are you particularly proud of one of those creations?

George Miliotes: We enjoy a great relationship with several great growers across the world.  We are particularly grateful to Jorge Ordonez from Fine Estates of Spain, Andre Shearer at Cape Classics and Johannes Selbach owner of Selbach-Oster.  Each of these people had the vision and desire to make a wine for us that would appeal to all of our guests, be reasonably priced and, most importantly, taste great.   They also were open to discussing what we desired in our wines, while making sure the land's expression was still leading the wine.  We blend Merlot, Chardonnay and Riesling with each of these makers every year.  We often taste through 20 to 30 vineyard samples and make 10 to 15 different blends before we settle on the one we think "rocks."  This is the creative aspect of the wine business that is extremely enjoyable, especially when a guest pulls you aside to tell you how good a wine is that you had a small part in making.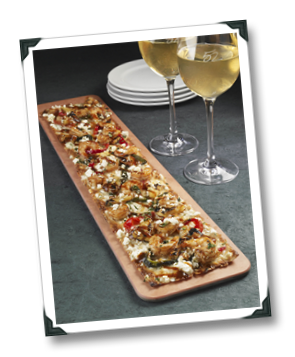 1WD: You guys seem to be opening new Seasons 52 locations in a lot of spots, and will be venturing out west. How the hell are you doing that in this economy?  The KoP Seasons 52 kitchen was hoppin' when I visited, and it had been open less than a week.  You guys didn't rob any banks, did you?

George Miliotes: We're part of Darden Restaurants, the world's largest full-service restaurant company. With their size and resources, it gives us the ability to invest in and develop the brand for future long-term growth and expansion. Plus, Seasons 52 itself is a strong concept that continues to perform well, even in this economy, and we are focused on making those long-term investment decisions. We believe our unique brand attributes have made us successful and continue to encourage trial and repeat guest visits. We constantly strive to exceed our guests' expectations when it comes to quality, service and value.  A good wine program doesn't hurt either!
1WD: What do you see as the most important trends in the wine industry today?  Anything really excite you, or (conversely) keep you up at night biting your fingernails?
George Miliotes: The most important trend in the business remains that people want to drink good wine at all quality/price levels.   Guests are continuing to become less fixated on particular varietals and are open to trying new things.  This excitement around the whole world of wine keeps me motivated every day!!  The challenges of the business are what makes things fun, so nothing is keeping me up at night (except for figuring out how I am going to convince Dan Kosta of Kosta Browne to keep all our restaurants in Pinot Noir 365 days per year!!)

1WD: 1WineDude.com readers tend to be what I call Intermediate wine lovers – folks who are beyond the basics but have a strong desire to learn more about wine.  Some of them may even become future Master Sommeliers, or even (if they work hard enough at it for no pay) wine bloggers (they dare to dream…)!  Any advice for those folks thinking about getting more serious in their studies of wine or wine service?
George Miliotes: A great place to start is the Introductory Level Master Sommelier Class.  We give you the whole world of wine in 2 days (yes dare to dream again) plus teach you how a professional blind-tastes and the basics of wine service. Plus you will have Master Sommeliers who are teaching you and have worked in every end of the business. You can pepper them with questions about all angles of the wine business.  From there you can decide which avenue in the wine business is for you.
Cheers!
(images: The Star Group)