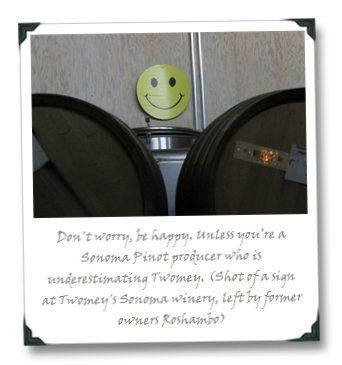 Ask Silver Oak's chief winemaker Daniel Baron to explain SO's pet project, Twomey, and this is what he's likely to tell you (at least, it's what he told me when I spent the better part of two days with the SO staff during a press trip earlier this year):
"If someone's gonna make the un-Silver Oak, it might as well be us."
In many ways, Twomey is the anti-SO: single-varieties versus blending, French oak versus American, small production (about six thousand cases produced of each varietal bottling) versus large volumes, playing up single-vineyard and vintage expression versus aiming for consistency in flavor and quality year-on year.
On paper, anyway, Twomey certainly looks like the anti-matter particles to Silver Oak, the Bizarro Superman version of SO's impressively well-run, large-scale red blend operations. But Twomey's quiet success is actually now seen by SO as a key learning element to inject back into their namesake production. "The bigger we got at Silver Oak," Baron told me, "the smaller we got in out approach."
Wine geeks might be tempted to dismiss Twomey simply on the basis of it being founded by the behemoth Silver Oak, but my tasting experiene would show that to be a mistake.
A big mistake, actually.
Because Twomey is, as one Sonoma winemaker told me privately, "making some of the most damn interesting Merlot in all of California." And in applying their approach to a handful of single-vineyard Pinot Noirs (in part to appease the Burgundy fans in the Duncan family who run SO), they're well on their way to making some of the most exciting Pinots in CA, too…
For Twomey, SO is now sourcing from twelve vineyard locations in Napa and Sonoma, and have set up a tasting room and winemaking operation in Sonoma at the old Roshambo (remember them??) property in Healdsburg. The Merlot part of the Twomey equation probably shouldn't be surprising, given Baron's pedigree making wine in Merlot-dominated Pomerol.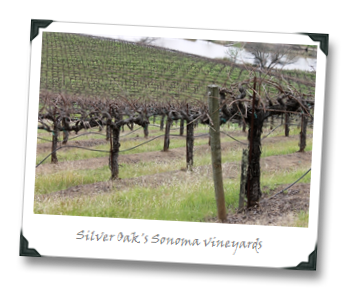 But the Pinot part?
Show of hands: who out there would have been betting on Silver Oak positioning themselves for potentially making some of the better Pinots coming out of Cali?
[Insert the sound of crickets chirping here.]
And yet, here we are. The proof is in the bottles.
Is Twomey 100% there yet, firing on all cylinders, rocking out to the tune of their own Pinot awesomeness? In my opinion, no, but it's clear in tasting their wines where they intend to take them, and that they are well on course. And it's clear that some Pinot producers without the type of resources that SO have at their disposal might want to start quaking in their boots right about now. Because the additions of consultant Jean-Claude Berrouet and Aussie winemaker Ben Cane seem to have provided the lift necessary to get the Pinots not only off the ground, but just about soaring. Cases in point: the fall releases of two Twomeys, both of which I have tasted at the winery (back in March) and recently as samples after release to the public (this Fall):

2008 Twomey Merlot (Napa Valley)
Price: $50
Rating: B+
The best way to describe this wine, which is sourced from SO's Soda Canyon Ranch vineyard in the southeastern hills above Napa Valley, is complete. I suspect I might eat that rating, by the way, along with some crow in about six or seven years, fi this wine develops the way that I think it might. It's intense (welcome to Napa!), structural, but damn good. Spices, dark fruits, chocolate and herbs, and… wait for it… less than 14% abv. I'm not an abv Nazi by any stretch of the imagination, but it's soooo friggin' refreshing to taste Napa Merlot that is generous in fruit but still tight, food-friendly and focused, one that isn't so broad that it might as well be a river of fat from a coq au vin lunch falling down your gullet. There's 8% Cabernet Franc in there, which might account for the herbs and spice notes, but if you told me it was 100% Merlot I'd have believed you. After I finished the glass, I mean.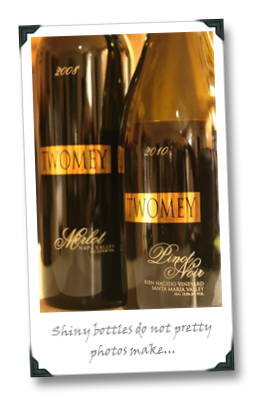 2010 Twomey Bien Nacido Vineyard Pinot Noir (Santa Maria Valley)
Price: $54
Rating: B+
In my subtle and understated way, I can tell you confidently that if you really dig strawberries, this wine will probably give you a mouthgasm. Made form four blocks of fruit from the Bien Nacido Vineyard, and aged fifteen months sur lies, and seeing some (35%) new French oak… whatever, it's just a really fresh, vibrant wine that has already evolved since I tasted it in March (when it was earthier, tighter and herbal). There's great red berry fruit showing on it now, the kind that really jumps out of the glass and starts playing knick knack paddy whack on your nose. But the compelling part about it is the line of tangy acidity and freshness that runs through it all, without compromising any richness in the fruit. SO ought to be exited about this location, and what lies ahead for future Pinots coming from that spot. Other Pinot producers ought to be worried, because if Twomey can extend the length of the finish on this then they'll be kicking ass on other Pinots from the area that cost more. Just sayin'.
Cheers!