Wine blogs are labors of love, and most of us don't make retirement-funding levels of income with these things.  So, every once in a while, it's nice to get some validation that what you're doing is valued (although you frequent commenters do a great job of that in the case of 1WineDude.com!).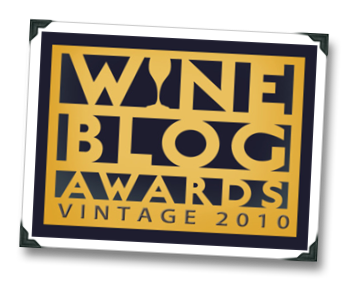 Awards from your peers and the blog-reading public are one way of helping with that validation, of course, though their also easy for those awards to be (humorously!)  lampooned as self-serving.
This brings us to the Wine Blog Awards, which are now under the management of the Open Wine Consortium, and are accepting nominations for the 2010 awards from now through April 7.
I can understand both the well-deserved praise and criticism that the WBA have received in the past, and I raise a glass to Tom Wark for having the courage to get the awards off the ground.  I've been mightily impressed with the way that the WBA's new organizers have both solicited and incorporated feedback to improve the awards, so much so that I think they're well worth your time – and your voices.
It will be up to you who gets nominated and, when voting begins later this year, you will have a major influence on who wins the awards.  So go out there and start nominating your favorites (I did) – you can simply leave a comment at any of the following links indicating your nomination(s):
It should be fun to see how the list of finalists stacks up – certainly there has never been stiffer competition in the world of wine blogging.
Cheers – and happy nominating!