Last week, I had the pleasure of receiving an e-mail from Jim Gordon, all-around nice & talented guy, editor of the wine industry stalwart publication Wines & Vines, and Director of the Symposium for Professional Wine Writers, containing the following tidbit:
"Congratulations! The winners of fellowships for the 2010 Symposium for Professional Wine Writers at Meadowood Napa Valley have been selected, and you are among them. I wanted you to know as soon as possible that, yes, you are a winner and that you should proceed accordingly with your travel plans for the Feb. 16-19, 2010 event… The writing samples you sent were judged blind by a panel of accomplished and objective wine writers, and earned you this honor as one of the most talented writers attending the sixth annual Symposium for Professional Wine Writers…"
Holy.  Crap.  [Editor's note: the previous statement refers to my reaction upon reading the e-mail; the words "holy" and "crap" do NOT appear in any form / context in the text of Mr. Gordon's note. ]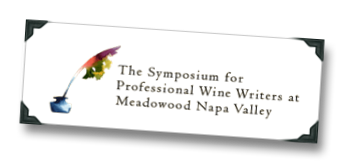 It's funny – I don't feel like a professional wine writer…
I can only assume that "judged blind" means that the judges were actually blindfolded when they reviewed the fellowship candidates' writing samples, otherwise I'm at a loss to explain the extreme lack of sound judgment surprising and unexpected choice displayed by awarding me a fellowship.
Not that I'm complaining.  For one, the speakers on tap for the Symposium read like a wine writing All Star Team line up.  And you'd do a lot worse than to stay at the posh Meadowood for four days.  But the coup de grace (which, by the way, is one of the more violent foreign language expressions to be adopted into common English language usage) is that Alder Yarrow (who is also participating in the Symposium) recently raved about past Symposium events, and I respect Alder's opinion – even though he once stole my girl (just kidding, Alder – who loves ya, baby?)…
I'm stoked to attend the Symposium, with the personal goal of trying not to talk too much so that I can learn as much as possible from the collective mad-talent to carbon-atom ratio that will be present at the event.  That includes Alder, even if he hasn't actually finished writing any books yet (just kidding, Alder – who loves ya, baby?).
Also involved in pulling of the Symposium are Napa Valley Vintners and the Culinary Institute of America, who deserve mad props for how well they treated us during last year's Wine Bloggers Conference in Napa/Sonoma.
I should (and therefore, will) extend a public thanks to Franciscan Estate, the winery that underwrote the particular fellowship awarded to me.  According to the Symposium website:
"Franciscan winery is pleased to offer a Fellowship to an attending writer of the 2009 Symposium for Professional Wine Writers. The award is open to published writers with a particular interest in the winemaker's art of blending."
I've no idea how my writing convinced the judges that I had a particular interest in the art of blending, but when good fortune comes my way, I'm not one to take the gift horse squarely by the horns and then kick him in the mouth (or whatever).  As far as I'm concerned, I am now a major fan of blending; just like when back in 2006 my band won the opportunity to audition at Philly's Electric Factory for opening for Bon Jovi, at the time I would have told you that Bon Jovi was one of the greatest bands in the known universe.  It's not selling out, it's just being way too grateful, right?  RIGHT?!??
Also on tap for the upcoming jaunt to Napa will be coverage of this year's Premiere Napa Valley event, which takes place Feb. 19-20 at the CIA.  Premiere Napa showcases (via barrel tastings) small lots of 200 wines from some of Napa's top wineries, made especially for the event; each lot is sold to only one bidder.  Now, we often discuss low production, hard-to-access wine on 1WineDude.com, but that's some low production, hard-to-get wine!
More to come on all of this in February, of course, and I plan on covering as much of the events as possible here (via text and video) and I'm looking forward to all of it – including talking shop with Alder, even if he [insert snide teasing remark about Alder here, as I'm too tired to come up with a new one right now].
Cheers!