Last week, I found out that I finished in the top ten of PostRank.com's list of the most engaging wine blogs of 2009.  PostRank's list is based on algorithms that measure online social network reactions to blog articles.  I think, anyway – it all seems a little complicated and makes me glad that I like writing instead of math.
I'm pleased as spiked sangria punch to be sharing the top 10 list with such talented and esteemed company.
I'm less pleased at how similar we all seem to be.
As you will note from this handy inset graphic, the list is comprised almost entirely of white males (click to embiggen):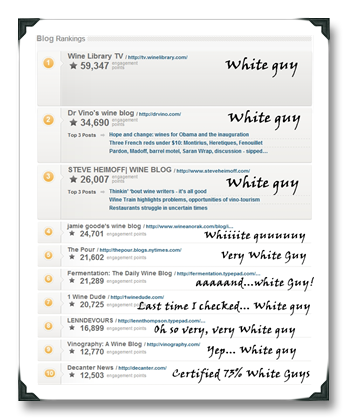 To be fair, both Decanter and Lenndevours are blogs with talented staff, not all of whom are white males.  Just the vast majority of whom are white males.
The lack of diversity is kind of odd, and sad.  I wonder if we represent the majority of wine consumers?  I doubt it, considering the studies that point to women being the driving force behind wine consumption (especially in the U.S.).
I'll stop now as I expect to get flamed for even bringing up the topic (those of you who know me have figured out by now that I can't help myself) and turn to the somewhat safer discussion of which 2009 1WineDude.com blog posts PostRank measured as being especially engaging.  But I'll warn you, that this list had me scratching my head just as much as I did over the 'white guy convention syndrone' of the top 10 list…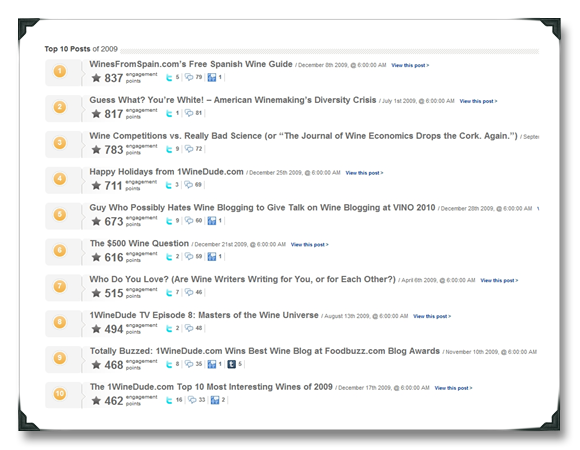 Some of these I can understand – numbers 2, 3, 6, 7, 10 especially; lots of chatter on the global interwebs on those, and some great, great discussions in the blog comments from all of you.  But… #3 consisted entirely of a picture of my daughter screaming her head off while visiting a mall Santa Claus (he was an awesome looking Santa, but still…).
And #1?  My take on a free publication about Spanish wines was #1?!??  WTF???
Oh well.  I'll stick to writing and stop trying to analyze the engagement math.  I'm not complaining about PostRank here – they have an awesome service and I regularly check their report on my site to see how much discussion is happening "off blog world" – I'm just saying that I don't totally understand the results.
Maybe I should just try writing about free wine books more often?
Cheers!