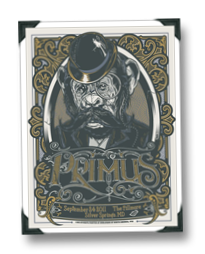 In the latest installment of 1WD TV, I go backstage in D.C. to talk to rocker Les Claypool about his Claypool Cellars wines, eat the butterscotch cookies in his Green Room, and generally geek out about great Sonoma Pinot Noir.  Les has just kicked off a tour with Primus in support of their new (excellent, dark & funky) album Green Naugahyde, a jaunt that will take them across a wide swath of the U.S., with stops in South America later this year and a stint at London's famed Royal Albert Hall next April.
This is my second interview with Les (you can check out the first one here), and he's still clearly very into the CC endeavor, and is quite the CA-boy homer when it comes to Pinot Noir.  Words can not accurately describe the coolness of this interview for me, so just watch the friggin' video already because it's Pudding Time, children!!!
Mentioned in this episode:
Cheers!