She Said "Freeze!," He Said "Wow. Really?!?"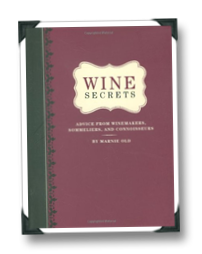 In this (long overdue!) episode of 1WineDude TV, I (briefly) interview (the very tall) Marnie Old, Philly's first lady of wine and co-author (with Dogfish Head's extreme beer maven Sam Calagione) of He Said Beer, She Said Wine: Impassioned Food Pairings to Debate and Enjoy: from Burgers to Brie and Beyond.
Marnie and I dined earlier this week at downtown Philly's excellent Osteria, where Marnie deftly navigated the Italian-heavy wine list to match lesser-known selections with our crazy-good fare (the perks of friendship – Marnie's been at the forefront of the Philly restaurant scene for years). 
In this interview, Marnie talks about her new book Wine Secrets: Advice from Winemakers, Sommeliers & Connoisseurs, and shares a (very!) inexpensive tip from the book for preserving open bottles of wine – and it's one that I guarantee most of you haven't tried yet!
Interview after the jump. Enjoy…
Cheers!
(images: amazon.com)